Welsh NHS misses 95% cancer treatment waiting target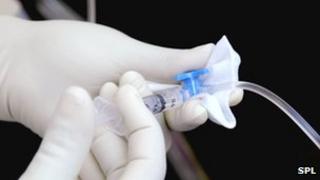 The Welsh NHS failed to hit its waiting time target for treating urgent cancer cases, latest figures show.
In October, 92.4% of cancer patients needing urgent care started their treatment within 62 days of diagnosis but the Welsh government target is 95%.
In July, Health Minister Mark Drakeford said plans were in place to achieve the cancer targets by October.
The Welsh government said October saw the "greatest improvement" in numbers of patients seen in the target time.
In September only 86.8% of patients had started treatment within the target.
Shadow Health Minister Darren Millar said: "Carwyn Jones and Welsh Labour have twice failed to meet cancer treatment commitments within the space of just six months - that's an unforgiveable failure that deserves a public apology and a full explanation.
"The gap between diagnosis and the start of treatment is an extremely distressing time and these delays will have a huge impact on patients and their loved ones."
Welsh Liberal Democrats leader Kirsty Williams said: "Being diagnosed with cancer is a terrifying experience.
"It is appalling that people are being forced to wait over two months until the start of their treatment."
A Welsh government spokesperson said Cardiff and Vale University Health Board hit the 95% target and Aneurin Bevan University Health Board had achieved the same rate for the second consecutive month.
Meanwhile, Betsi Cadwaladr health board in north Wales had achieved a 94% rate.
"While we are optimistic that this is a move in the right direction, the health boards will continue to work towards achieving the targets and maintaining this achievement in the future," he said.