NHS consultant opinion 'should be available when needed'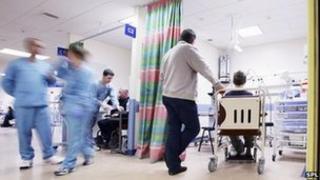 Hospital patients should be able to have a consultant's opinion on their condition at any time, the chair of the Welsh BMA has said.
His comments follow criticism of the NHS from the former manager of the University Hospital of Wales after he suffered damage following surgery.
Russell Hopkins has called for proper staffing of hospitals at weekends.
Wales BMA chair Phil Banfield said he did not want people like Mr Hopkins having concerns left unaddressed.
Mr Hopkins, a former oral maxillofacial surgeon at UHW in Cardiff and a former chair of the British Medical Association in Wales, said on Sunday that politicians and managers had "messed up" the NHS, and said patients lives were being endangered.
He underwent hip surgery at Llandough Hospital near Cardiff in 2011, during which he said a spinal anaesthetic caused a bleed in his spinal column.
It left him suffering urinary problems and nerve damage, he said.
He is one of eight consultants who has called for proper staffing of NHS wards at weekends, a move which has been mooted for urgent and emergency services in England.
Mr Banfield told BBC Radio Wales: "The BMA in Wales is discussing with both employers and the Welsh government, making sure that the sickest patients are seen, making sure there is no junior doctor who feels unsupported in Wales.
"That's entirely different to saying, let's deal with routine matters out-of-hours.
"We would support making sure and building systems that don't allow people like Mr Hopkins to have concerns over a weekend and not have them addressed.
"The NHS in Wales has spent a lot of time in recent months making sure that we secure our ability to hand over patients accurately.
"It has developed systems that formalise the assessment of sick patients in early warning scores and it has made sure the system is there to accelerate and escalate concerns."
He acknowledged there were places where staffing "was thin on the ground" and said the situation needed looking at as a whole.
Mr Banfield added: "I would see the next round of job planning and contract talks in primary and secondary care just making sure that our systems are safe at the weekends.
"There is absolutely no reason why you should not be able to have a consultant's opinion if you are ill or have a concern at a time that is needed."
The Welsh government said health boards and council social services have produced joint plans for the first time this year to manage winter pressures, while an government official did not rule out seven day working as part of an overhaul.
Dr Grant Robinson, the Welsh government's clinical lead for unscheduled care, said radical changes were needed to the system.
"Sometimes there are some big game changers - seven day working is a radical change that as the potential to help," he said.