Drug hope for leukaemia patients after Cardiff trial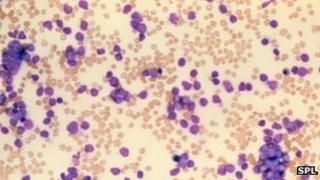 A drug trialled by doctors in Cardiff could prolong the life of patients with the most common adult leukaemia.
The drug, GA101, has been given with chemotherapy to patients with chronic lymphocytic leukaemia (CLL) and other conditions.
Study leader Prof Chris Fegan called the results "exciting", with the blood cancer eventually being kept at bay.
"People will eventually not die of this disease, but die with it," he said.
The professor of haematology at the University Hospital of Wales in Cardiff has been leading the five-year trial in the UK. Research has also been carried out in Europe.
He said GA101 was a new antibody which had proved more successful than any others and meant doctors would be able to treat CLL with agents other than chemotherapy.
CLL is a form of blood cancer which affects the body's white blood cells which play an important role in maintaining a healthy immune system and fighting off infection.
In people with CLL the cells become faulty and start to grow and multiply at a faster rate than the healthy cells, eventually outnumbering them and preventing them from working normally.
The average age of patients with this form of cancer is 70.
Prof Fegan said: "One of the key challenges we face in CLL is that so many patients are over the age of 60 and suffer from significant co-existing medical conditions, such as diabetes and heart disease, which makes them unfit to receive the most aggressive treatments."
He said that in the past this had a significant impact on outcomes.
But treating patients with the trial drug and chemotherapy "offers a tolerable combination that can offer a real survival benefit and longer remission times", added Prof Fegan.
GA101 is is not currently licensed in the UK and is only available through clinical trials.
But Prof Fegan said he expected it would be licensed both in the US and Europe in the next few months.