Prince George's tree adds to growing Plant! woodland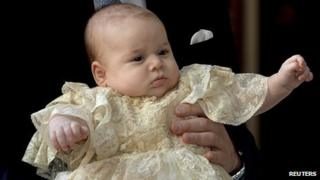 A tree has been planted for Prince George as part of a project to create woodlands while marking the birth of children born or raised in Wales.
Although the prince was born in England, it marks the time his parents the Duke and Duchess of Cambridge spent living in Anglesey.
Prince William was based on the island as an RAF search and rescue pilot.
He was presented with a Plant! project certificate ahead of Saturday's Wales-South Africa rugby match.
Almost 200,000 trees have been planted since 2007.
Every child receives a certificate to tell them where their tree is located in Wales.
Prince George's tree has been planted at a new Plant! site in Llyn Geirionydd, near Llanrwst, Conwy county, which is due to be officially opened in the new year.
First Minister Carwyn Jones said: "By planting trees for this new generation we are providing them with personal links to the environment and creating local, native woodlands that can be enjoyed for generations to come.
"While Prince George was not born in Wales, we have planted a tree in his honour of the time his parents spent here and the fact the family will always have a welcome home here in Wales."
The Duke of Cambridge, vice patron of the Welsh Rugby Union (WRU), is attending the Wales-South Africa Autumn International match at the Millennium Stadium where both sides are competing for the Prince William Cup.
Seriously injured
On arriving at the stadium he admired a large portrait of the Queen by Cardiff-born artist Dan Llywelyn Hall which was on show on match day for the first time.
It was commissioned by the Welsh Rugby Union for the 60th anniversary of the Queen's coronation.
The prince told Mr Hall: "Oh fantastic, how long did it take you?"
Mr Hall described how it took three months to complete including a sitting with the Queen at Windsor Castle.
The prince was also meeting injured former players who are beneficiaries of the Welsh Rugby Charitable Trust, of which he is patron.
The trust supports players that have been seriously injured while playing rugby in Wales.
Robert Davies, 29, from Brecon, was paralysed from the chest down after his neck was broken during a scrum in 2005.
He met the prince with friend Gethin Meredith, 29, also from Brecon, who chatted with William about parenting.
"He was under the illusion that after six months the baby settles down. Well, Morgan was nine months last week and he still has us up at night," fellow new father Mr Meredith said.
"When I told Prince William his face dropped and he said 'oh'."
Richard Vowles, 40, a hooker who was paralysed from the chest down after a scrum in 1998, also chatted about parenting with the prince.
"He is a really lovely guy," Mr Vowles said.
"You could sit down with him and have a beer all night, he is one of the lads."
Dennis Gethin, WRU president and chairman of the trust, said he was delighted the prince had agreed to be patron two years ago.
In a statement before the match, the prince said the Wales side were "special".
"It has been an amazing year for Welsh rugby with our triumph at the Six Nations and the Welsh contribution to the British and Irish Lions' historic success in Australia," he said.
"The final test, with its hugely convincing performance, had 10 Welsh players as starting Lions, which says something about how special this side currently is."
He added that he was glad the WRU was taking the time to honour veterans with poppies and a minute's silence, ahead of Remembrance Sunday.