Tests to reveal 'super' rat levels in Powys and Gwynedd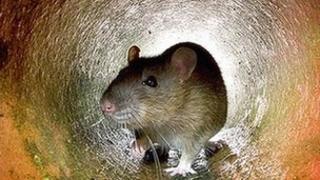 Tests are being carried out in Gwynedd and Powys to try and reveal the extent of poison-resistant so-called "super" rats in Wales.
The rats, immune to conventional poisons, are spreading across Britain and have been found in Sussex, Kent and the West Country.
Dr Dougie Clarke, from the University of Huddersfield, is leading the rodenticide resistance mapping project.
He said resistant rats were in Wales, but the extent is unknown.
Speaking to BBC Radio Wales, he said: "We've known that there have been resistant rats in Wales dating back to the late 1950s, but full surveys of the extent of it haven't been done recently."
He said genetic testing would be used to determine the presence of super rats in 23 counties in England and two in Wales.
Researchers will investigate the animals' DNA to discover why they are immune and it is hoped the results will be revealed next spring.
Dr Clarke added: "They haven't mutated.
"They've almost [certainly] definitely existed, maybe at a very low level of the rat population.
"They might've been 1%, they might've been 10%."
He said super rats were the "exact same size" and "you can't tell them any differently from normal rats. They've got the same size and everything".