Fire services 'normal' in Wales after pensions row strike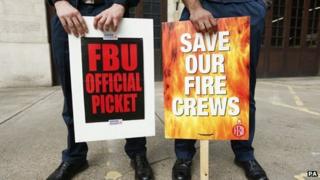 Fire services in Wales have returned to normal after the second four-hour strike by firefighters in a row over pensions.
Fire chiefs said arrangements for cover during the walk-out worked well and they praised crews who stayed on at incidents already under way.
Friday's strike began at 18:30 GMT and ended at 23:00. A further strike is planned on Monday morning.
The UK government has described the action as "completely unnecessary".
Members of the Fire Brigades Union (FBU) took part in the strike, which was announced last week, at the start of what was expected to be a traditionally busy weekend ahead of Bonfire Night.
In north Wales, Chief Fire Officer Simon Smith said a "high" number of officers had taken part in the strike, which had "resulted in a notable reduction" of resources.
He said the service was unable to provide it usual level of response to incidents but had seen a lighter than expected number of calls for a Friday night.
He said: ""The service attended a serious road traffic collision a short while before the strike action started and I would like to commend our staff for continuing to deal with the incident into the strike period in such a professional manner.
In south Wales, the effect of the strike on the area's fire service was similar, according Assistant Chief Fire Officer Rod Hammerton, and resources were targeted at the most critical calls, he said.
He added: "I would like to take this opportunity to note the professionalism of our operational staff - understandably emotions can run high at times such as these but I am pleased to say that their behaviour has been measured throughout."
Mid and West Wales Fire and Rescue Service said it operated "at around 85% availability" during the FBU action and attended a number of incidents including a crash on the M4 westbound at Baglan, Neath Port Talbot, during the evening rush hour but just before the strike began.
The latest action came after a four-hour stoppage last month, followed by an abandoned strike when an agreement to the two-year dispute was anticipated.
'Fitness principles'
The union wants assurances about terms of employment in view of government plans to raise the retirement age for firefighters from 55 to 60.
The FBU says it fears firefighters will be made redundant if they fail fitness tests and are unable to find other work in the fire service.
But the UK government says firefighters have been offered similar fitness principles to those the FBU accepted in Scotland and its proposals offer them one of the most generous pension schemes in the public sector.
Fire Minister Brandon Lewis said: "This strike action by the FBU is completely unnecessary and does nothing but damage the good reputation firefighters have with the public."