Wales doubles as England in World War III love story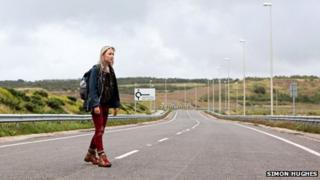 Rural Wales is doubling up as England in a new film about the break out of World War III.
The movie How I Live Now was shot at a number of locations purporting to be an English country house and farmland.
Other locations used to camouflage the war-torn love story include the Army training range at Sennybridge, Powys.
Oscar-nominated actress Saoirse Ronan stars as American Daisy in the big screen adaptation of the 2004 debut novel by Meg Rosoff.
How I Live Now, which opened at cinemas on Friday, tells the story of a 16-year-old girl sent to England from New York for one "perfect summer".
Terrifying journey
Daisy stays with cousins on a remote farm and as she immerses herself in this pastoral idyll she falls madly in love with Edmond (played by George MacKay).
But when war breaks out, she is forced to embark on a terrifying journey to be reunited with the boy she loves.
What big screen audiences will not know is that many scenes are filmed in Wales rather then England.
When the location manager was searching for suitable film locations, Wales Screen Commission, part of the Welsh government's creative sector team, suggested more than 50 sites.
Eventually, producers settled on Mandinam in Llangadog, Carmarthenshire, as the main farmhouse setting.
The location is an estate with 450 acres (180 hectares) of parkland and woodland with views of the Towy Valley.
"Most fun"
Filming ran from June to August 2012 and took place in some very wet Welsh weather.
But it did not seem to dampen the spirits of director Kevin Macdonald, who previous credits include The Last King Of Scotland and State of Play.
Macdonald has been quoted as saying how making the movie was "the most fun I've ever had making a film".
Daisy's journey also takes her across a number of other Welsh locations.
These include: Llandovery and Llandeilo in west Wales, Cardiff International Airport, the Ministry of Defence's training village at Sennybridge, Powys, and the backlot of Dragon International Studios in Rhondda Cynon Taf.
Berwyn Rowlands, a film producer who was chief executive of the former Welsh media agency Sgrin, said Wales has a long history of attracting film companies.
"Wales' landscape offers rugged mountains, rolling hills, beaches and urban settings," he explained.
Last month there was criticism when it emerged that a University of South Wales promotional film starring Hollywood's Ioan Gruffudd was shot in Somerset, and not the Brecon Beacons in mid Wales, to avoid the Welsh rain.