Currys' previous dance interview in Cardiff revealed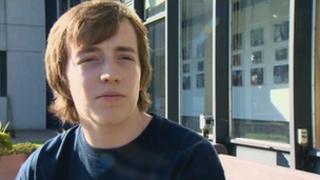 A second job hunter has spoken of his humiliation at being asked to dance at an interview for electrical retail giant Currys.
Last week university graduate Alan Bacon said he had to dance robotics-style to a Daft Punk song to try to get a job with the firm in Cardiff.
Currys said it had been a one-off.
But 18-year-old student Rhys Morgan said he was asked to dance at a Currys interview in the city last year. Currys said it had been an "ice-breaker".
It is understood the same manager was responsible for both interviews.
News of Mr Bacon's dance interview for Currys Megastore in Newport Road made headlines and went viral on social media after he spoke out about his experience.
He said he had researched the company and prepared for the group interview for a week, only to end up having to dance "rubbish robotics in my suit in front of a group of strangers".
"All professionalism went out of the window," the 21-year-old told the BBC News website.
Currys said the dance segment at Mr Bacon's interview had been a one-off and that it was not part of its official recruitment processes.
However, Mr Morgan has come forward to say it mirrored his own experience last summer at an interview for a Currys store in the St David's shopping centre in Cardiff city centre.
He said he did the dance to a Dizzee Rascal song but it was "awkward and humiliating".
"Everyone was incredibly surprised by it," he said.
"Everyone was taken aback at the idea of coming up with a dance routine and then performing it as part of this interview.
"The managers seemed to get something out of it. I'm not sure what exactly they could really take from people doing a dance."
Currys said it had been an "ice-breaker designed to break down barriers between candidates" and did not form part of the assessment.
"As an electrical retailer, we use a variety of exercises to assess a candidate's skills and draw out their passion and personality," it said in a statement.
"Our store colleagues bring gadgets to life for customers in creative ways each and every day and we're proud to recruit the best individuals for the role.
"We have a successful and established policy for recruitment."