Wales Book of the Year: Rhian Edwards' Clueless Dogs wins hat-trick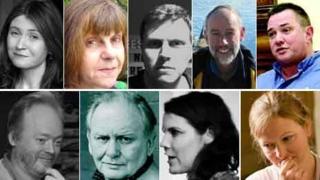 A writer has won a hat-trick of prizes at the Wales Book of the Year Awards with her debut collection of poetry.
Rhian Edwards took the overall English-language title with Clueless Dogs, the English-language People's Choice award and Roland Mathias Prize for Poetry.
In Welsh, Heini Gruffudd's Yr Erlid took the book prize, while poet Llion Jones won the People's Choice award with Trydar Mewn Trawiadau.
The winners were announced at the Welsh College of Music and Drama in Cardiff.
Rhian Edwards' Clueless Dogs is a poetry collection chronicling her Bridgend childhood and other matters.
Heini Gruffudd's Yr Erlid (which translates as "to chase" or "persecute") is a historical book about his mother and her family's experiences in Nazi Germany.
Llion Jones' Trydar Mewn Trawiadau is a selection of tweets which the author wrote as short poems.
The winner of the Fiction Category for 2013 was James Smythe for his novel The Testimony.
John Harrison won the Creative Non-fiction Category Forgotten Footprints.
Category winners receive a cheque for £2,000, while the overall winners receive a further £6,000 each.
Nine works were chosen in the three English-language categories from more than 100 eligible books.
Judges' chair Ffion Hague said they had faced a real challenge as the standard seemed higher than ever.
Meic Stephens was shortlisted in both English and Welsh language categories - a first for the annual award.
His English language contender was a collection of obituaries of 75 prominent Welsh people, and in the Welsh category a story of how a young boy from an English-speaking home grew up to be a Welshman and play a prominent part in Welsh culture.
This year's shortlist, as in previous years, featured authors at different stages of their writing careers.
James Smythe and Deryn Rees-Jones both made the shortlist for the first time, as did winner Rhian Edwards for her debut poetry collection chronicling her Bridgend childhood and other matters.
Previous winners John Harrison and Jon Gower - last year's Welsh-language winner - were also nominated for their non-fiction books about Antarctic explorers and a journey around the Welsh coast.
Writer and business consultant Ffion Hague chaired the panel of judges.
Ms Hague said: "Our category winners are all books that deserve a wide readership throughout Wales and beyond.
"We were however unanimous in our choice of Wales Book of the Year and are proud to give the award to Rhian Edwards for Clueless Dogs.
"This is a collection of poems that remains truly accessible while not compromising on quality.
"Its readability is stunning and we are sure that we will read much more of Rhian's work in future."
Lleucu Siencyn, chief executive of competition organisers Literature Wales, said: "Rhian Edwards is a fantastic example of a writer progressing through the literary ranks."
Patrick McGuinness was the 2012 winner with The Last Hundred Days, a novel set in the Romanian capital Bucharest during the 1989 revolution.
Previous winners of the English award, which was launched in 1992, included Owen Sheers, Robert Minhinnick, Dannie Abse, and Deborah Kay Davies.