Welfare grants rocket for struggling Welsh farmers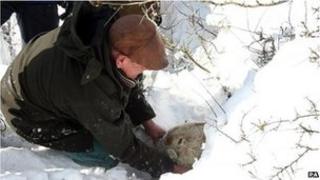 A rural welfare charity helping struggling farming families has already handed out twice the amount in hardship grants that it awarded last year.
The Royal Agricultural Benevolent Institution (RABI) has given £220,000 to families across Wales to help pay bills.
In north Powys grants of £55,000 were awarded in the first six months of this year alone.
Since January RABI said it had helped 241 families in Wales.
The charity supports members of the farming community facing need, hardship or distress.
The news comes as rural Wales prepares for the Royal Welsh Show in Llanelwedd, Powys, which starts on Monday.
RABI blamed the rise in hardship grants on last year's wet summer weather and heavy snow earlier this year, which resulted in farmers losing hundreds of lambs.
Of the £55,000 in grants awarded to families in the old county of Montgomeryshire, £44,000 was handed over to farmers or farm workers.
In the same period last year only £1,500 was paid out in welfare payments.
Erys Hughes, who manages RABI in Wales, said some rural families were finding it hard to make ends meet.
"I think it's the outcome initially of the second wettest summer on record last year and the implications that it had," he said.
"Cost of production has gone up, cost of fodder has gone up. (There was a) loss of crops last year which meant there was a shortage of good quality fodder which we are used to.
"And then, of course, in parts of Wales we had the horrendous winter weather later on during the lambing season when literally thousands of lambs were lost.
"The result, obviously, is a loss of income and pressure on farming families."
Mr Hughes said the charity only helped families with household debts, such as electricity and telephone bills, and did not support farm businesses or animals.
"It's recognised now that only 10% of many farmers' incomes go on the home. The higher percentage goes on the farm, the animals and maintaining the business as best as they can," Mr Hughes added.
"Families are definitely suffering."
Around one in four people in Powys are not working which is above the Welsh average, while official figures put average wages in the county at about £22,000.
The mayor of Llanidloes Phyl Davies said that was distorted by higher pay in the public sector.
Mr Davies added people were struggling to get by in rural communities such as Llanidloes.
"People look at mid Wales and they see a land full of sheep, cattle and they don't realise what's going on behind closed doors maybe," he said.
"There are people who are really struggling to make ends meet, and because of where we live people have to rely on owning a car and with the cost of fuel, the cost of tax, insurance, everything's going up.
"Everybody has to commute because there aren't the levels of employment there used to be in local towns."