North Wales at centre of RAF mountain rescue anniversary
14 July 2013

From the section

Wales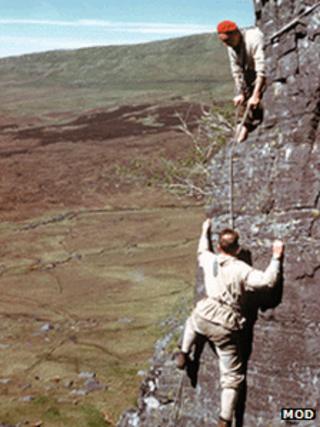 North Wales will be the centre of celebrations to mark the 70th anniversary of the Royal Air Force's mountain rescue service.
Not only does the volunteer service currently have its headquarters at RAF Valley on Anglesey but it was in the mountains of Snowdonia that the concept was born.
In the darkest days of the Blitz, air bases and flight training schools were forced to relocate from the onslaught on the south-east of England to more isolated spots in Wales and Scotland.
But while this placed them out of range of the Luftwaffe, losses actually began to rise as inexperienced pilots struggled to negotiate the mountainous terrain.
So in 1942 Flt Lt Desmond Graham, stationed at RAF Llandwrog near Caernarfon, began bombarding the War Office with requests for specialist equipment and expert mountaineers in order to battle the spiralling death toll.
According to Brian Canfer, chairman of the RAF Mountain Rescue Association, it was the starting point for a service which took over a decade to fully mature.
"Desmond Graham was the medical officer at Llandwrog and himself a keen mountaineer," he said.
"It drove him to distraction that many of the crashes in the mountains of Snowdonia were perfectly survivable but that men were dying of their injuries because of the amount of time taken for help to arrive.
"He kept on and on that more needed to be done and eventually it was - though still pretty rudimentary by today's standards."
Flt Lt Graham's first mountain rescuers had no waterproof clothing or search lights.
Injured flight crew
They had to hammer nails into the soles of their standard-issue boots in order to gain purchase on the rocks, and needed to be able to climb in gas masks while carrying bulky wooden radio sets powered by massive lead-acid batteries.
Nevertheless they succeeded in saving the lives of 10 injured flight crew in that first year, prompting the War Office to introduce similar projects across the UK.
And as Sqn Ldr Dave Webster explained, while modern RAF mountain rescue teams are certainly better equipped, the challenges they face have also grown.
"In the early years of the service the overwhelming majority of the call-outs were to locate and extract injured flight crew, but today the mountains are opened up to everyone," he said.
"The troops on call never know when the phone goes whether it's going to be to cut a pilot free from a light aircraft or to find a climber or walker who's fallen off a ledge."
As such, he said it took a special kind of volunteer.
"Because it requires such a vast array of skills, normal military rank goes out of the window with the RAF mountain rescue service - the group is led by the most experienced and able mountaineer," he said.
"They have to volunteer for service on top of the rest of their RAF duties but, strangely you might think, there's never a shortage of volunteers.
"Some of them come as capable climbers, others learn from scratch, but they're all a special breed who want to push themselves to the limit of physical and mental endurance to help others."
The anniversary celebrations start with a public demonstration of the rescue service's work at Caernarfon Airport on Sunday.