Hovis and Mr Kipling firm plans to close Barry mill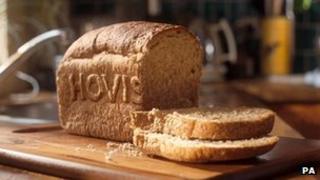 The maker of Hovis bread and Mr Kipling cakes plans to shut a 109-year-old flour mill with the loss of 43 jobs.
Premier Foods, which is nearly £1bn in debt, is set to close the mill at Barry Docks by the end of October, ending a long history in south Wales.
The Atlantic Mills site was built in 1904 by the then Hovis-Bread Flour Company, the UK's largest flour miller, later renamed Rank Hovis.
Consultations with the employees in Barry will begin in the next few days.
The closure will be phased in over the next few months.
St Albans-based Premier Foods said it needed to make "tough decisions" to secure the future of the milling business and help turn trading around at its struggling bread division.
Bob Spooner, the bread division's managing director and group supply chain director, said: "We recognise the impact this proposal will have for our employees in Barry and we thank them for their contribution over the years.
"However, it's not possible to continue on the current path given excess capacity in the marketplace."
Vale of Glamorgan MP Alun Cairns said he was "committed" to stopping the closure.
He said: "This is a terrible blow and I will be meeting senior executives in the next week to see what needs to be done to stop this closure and to save these jobs.
"There is a long history at the site and currently 43 families depend on the income it generates. We have a short time to change the owner's minds and I will do anything and everything possible to achieve a positive outcome.
"I also know hauliers and other contractors who depend on Rank Hovis' operation. This is a significant issue for local businesses and employees in Barry."
Business split
The closure comes as part of a shake-up of the Rank Hovis network, which dates back to 1875 and was bought by Premier Foods in 2007.
It follows the closure of a mill in Glasgow in early April, which affected 15 employees.
Premier Foods will split the milling business in two, with mills in Southampton, Manchester and Edinburgh to be focused on producing flour for supermarkets and other food manufacturers, trading under the Rank Hovis brand.
The remaining mills in Wellingborough, Selby, Andover and Gainsborough will supply flour for the company's baking and grocery business.
Central management jobs may also be under threat as the firm said it would no longer need a separate team for the mills supplying flour to its own businesses.
Premier Foods said it would invest an extra £1m at the Southampton and Wellingborough mills to boost production.
The company has been overhauling its bread division, recently announcing the closure of three bakeries in Eastleigh, Greenford in west London, and Birmingham, along with distribution centres in Greenford, Birmingham, Mendlesham and Plymouth with the loss of around 900 jobs.
The wider Premier Foods business, which is nearly £1bn in debt, hopes to save around another £20m this year through its bread business restructuring and general cost cutting.