Abercarn mining bravery medal sold for nearly £7k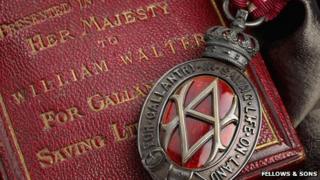 A bravery medal awarded to a miner who helped rescue workers in one of the UK's worst pit disasters has been sold at auction for nearly £7,000.
Queen Victoria gave collier William Walters the Albert Medal of the Second Class after he saved lives in the Abercarn Colliery disaster in 1878.
Some 268 miners died when an explosion ripped through the mine, which was part of Monmouthshire at the time.
The medal, a precursor to the George Cross, fetched £6,900 at auction.
On 11 September, 1878, an explosion caused extensive damage to the shaft and surrounding area at the colliery in Abercarn, a small town which is now part of Caerphilly county.
Coal and timbers caught fire trapping those underground without a means of escape.
Auctioneers Fellows & Sons said: "After the two official rescue teams were withdrawn, the conditions having been determined too treacherous, Walters and eight other mine workers braved the inferno and an almost inevitable second explosion to save their trapped colleagues.
"Despite the perilous conditions the men remained in the shaft aiding the rescue of others until they were sure no survivors remained."
The mine was flooded by the nearby canal, taking two months and 35 million gallons of water to fully extinguish the fire.
The bodies of many of the 268 who had died remained underground, making it one of the worst mining disasters in the country's history.
The Albert Medal was issued for gallantry at sea from 1866 and on land from 1877.
It was awarded into the 20th Century but has since been replaced by the George Cross.
Naomi Wilson, a senior specialist at Fellows, said it was rare for the Albert Medal to come up for auction and there was a "big, big audience" for it.
"I think buyers also love the back story to things like medals, not just civilian like this but also military," she said.
"They like to research it and uncover the story."