Cardiff airport: Carwyn Jones in talks with operators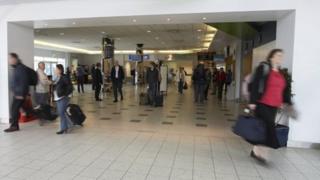 The first minister has confirmed he has met commercial operators with an interest in buying a stake in the struggling Cardiff airport.
Carwyn Jones said a "medium to long term" strategy has been discussed with potential investors.
The Welsh government stepped in and bought the airport in March after passenger numbers slumped.
But Mr Jones told The Wales Report with Huw Edwards they wanted someone to share the running of the airport.
He said: "What we are looking at is for a commercial operator to come in to run the airport, perhaps come into partnership with us - maybe buy half of the airport if I can put it so crudely - so the money comes back quickly.
"There's interest out there - I have met with large operators who have that interest."
'Interesting discussions'
He added: "What would have worried me is if there wasn't interest from commercial sector in Cardiff- but there is.
"It's simply a question of taking it through a difficult period and then putting it in a position of where we want it to be, and that is a thriving airport."
The first minister also said he had no doubts about the airport's potential and hinted at Welsh government ambitions to draw large airlines back to south Wales.
He added: "There are discussions that are taking place at the moment- I can't reveal what they are but there [have been] several interesting discussions."
The troubled airport was bought for £52m by the Welsh government which promised it would be managed "at arm's length" and "on a commercial basis".
Upwards trend
In the month before the purchase Mr Jones was critical of the airport after a slump in passenger numbers from a peak of two million in 2007 to just over one million in 2012.
Mr Jones told the programme things were on the 'up' quoting comparative monthly figures from May 2012, which show a growth of 9% in the same period this year.
However, recent statistics from the Civil Aviation Authority suggest an overall decrease of 11% in total passenger numbers.
The Rhoose terminal hit a 15 year low when numbers fell below the one million mark in April 2013 and has struggled to get back on track.
But senior managers at Cardiff airport said they are pleased with progress and that there is an upwards trend in the number of people through the terminal gate.
The airport predicts that June 2013 figures which are out later this month will show a steady increase of people flying from the airport.
The Wales Report is broadcast at 22:25 BST on BBC One Wales on Sunday 7 July.