Gwent Police commissioner spent £16,000 to oust chief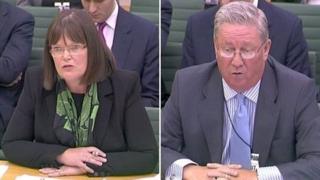 More than £16,000 has been spent in legal fees by a police commissioner who ousted his chief constable from post, it has emerged.
Gwent PCC Ian Johnston disclosed the figures in a letter to MPs looking into the departure of Carmel Napier as the force's chief constable.
In June Mr Johnston said he had ordered Mrs Napier to "retire or be removed".
Mr Johnston told the Home Affairs Select Committee he spent £16,522 on a senior and junior barrister.
Committee chair Keith Vaz said the accountability of PCCs needs to be scrutinised while Newport West MP Paul Flynn has likened PCCs as having unlimited "Henry VIII" powers.
"I am deeply concerned at the amount the taxpayer has had to spend on legal advice for this Gwent saga," said Mr Vaz.
"It is clear that the powers and accountability of PCCs need to be carefully scrutinised.
"The committee will revisit the issue of PCCs on the anniversary of their election in November."
On Tuesday, Mrs Napier told the committee she was forced to resign following "menacing and bullying" treatment by the force's police commissioner.
'Powers reduced'
Mr Johnston told MPs she was "unacceptably" unhelpful.
It has since emerged he has incurred a £16,522 legal bill by using a £400-an-hour senior barrister and a £175-an-hour junior barrister.
On Thursday, Newport West MP Paul Flynn likened PCCs as having unlimited "Henry VIII" powers which threaten the independence of the police.
Turning to Commons Leader Andrew Lansley during business questions, Mr Flynn said: "When can we debate the creation of the office of police and crime commissioners which is causing disruption, waste and unhappiness throughout the country?"
"The concept of having two police constables in charge, one of whom has Henry VIII powers - almost unlimited - and the existing chief constables having their powers diminished and threatened is a matter of great concern and a threat to the independence of our police."
Mr Lansley said that "democracy matters" and that accountability came with a PCC's election.