Homes scheme for ITV Wales' Culverhouse Cross site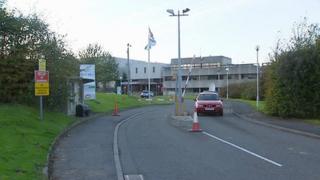 ITV Wales is expected to clear the first hurdle in a bid to move its studios when plans to redevelop its Culverhouse Cross site go before the Vale of Glamorgan council's planning committee.
Planners have been advised to accept the proposal for 250 homes on the site on the west of Cardiff.
The broadcaster has not said where it is moving to.
It is thought to be considering sites in Cardiff Bay and Cardiff Gate.
The company announced in February that it was looking at a number of options.
Committee members are to visit Culverhouse Cross ahead of Thursday's vote to assess how the housing development would fit in with the existing retail parks and busy intersection of the M4, A48 and A4232 Cardiff ring road.
Usefulness
Rob Thomas, director of development services for the council, said: "An application for outline planning permission to demolish the site and construct housing is being presented to the planning committee on Thursday this week.
The recommendation is to grant permission subject to a comprehensive legal agreement, he said.
The old HTV moved into the purpose-built studios in the early 1980s, but as the amount of ITV output created there has been reduced over the decades, the company said the site has out-lived its usefulness.
"Licence renewal guarantees ITV's presence in Wales into the mid 2020s," a spokesman said.
"We want to ensure that we will be in a fit for purpose building that will allow us to deliver to our audiences the best possible service at a sustainable and affordable cost."