Caerphilly council bosses bailed in pay rise inquiry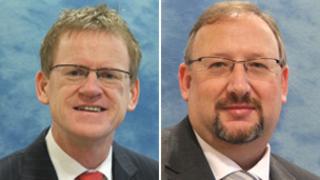 Two senior employees of Caerphilly council arrested following a police investigation into pay rises given to executives have been released on bail, said police.
Chief executive Anthony O'Sullivan and his deputy Nigel Barnett were questioned by Avon and Somerset Police.
The arrests came amid claims "secret" pay rises were awarded to 21 senior council bosses.
Police said the investigation was continuing.
Officers were called in after a Wales Audit Office (WAO) report said the council had acted unlawfully.
Attention about Mr O'Sullivan's pay grade was initially sparked when his salary increased from £132,000 to £158,000.
This led to protests by staff and trade unions because it was at a time when the majority of council staff were facing a pay freeze for the third consecutive year.
Eventually, the pay rises were shelved in January and Mr O'Sullivan's increase fell from from £26,000 to £5,000.
Two months later a damning report by the assistant auditor general for Wales culminated with the council boss being suspended on full pay.
Gwent Police were called in after the critical WAO report said the council had acted unlawfully.
The report said the decision on 5 September last year to approve the pay structure was "unlawful on a number of grounds".
It said the meeting of the senior remuneration committee was not properly advertised in accordance with the Local Government Act and neither were agendas for the meeting made available for public inspection as they should have been.
The report also said officers, such as the chief executive, should not have been present at a meeting which approved the pay rises.
Avon and Somerset Police were asked by the Gwent force to look at the WAO findings because of its "working relationship" with the council.
Sandra Aspinall, acting deputy chief executive of Caerphilly council said: "As acting deputy chief executive I will assume responsibility for leading the organisation until further discussions take place.
"I want to send a clear message to the community that it is very much 'business as usual' at Caerphilly County Borough Council.
"We will continue to concentrate our efforts on delivering quality services to residents and these recent events will not affect our commitment to this goal."