Ex-Olympic cyclist Darryl Webster's cannabis sentence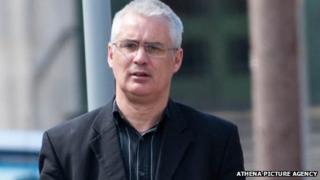 A former Olympic cyclist who grew 37 cannabis plants worth £24,000 has been given a three-year community order.
Darryl Webster, 50, of Pencader near Carmarthen, was known for his anti-drugs stance during his career.
But after retiring from the sport he said he struggled to cope with depression and began using cannabis, Swansea Crown Court heard.
Webster, who rode at the 1984 Los Angeles Olympics, admitted growing cannabis.
He was also told to carry out 300 hours of unpaid work.
He said the plants found at two properties were for his personal use.
Police said the plants were found last year in his home and his partner's vacant address along with sophisticated growing equipment.
Webster told the court: "I've been consuming cannabis to deal with my anxiety and stress. I have had lots of negative experiences with anti-depressants in the past which left me scared and suicidal."
He won a junior world track medal, the British pursuit title among a total of 23 national titles.
'Downward spiral'
But he said his father's death, his divorce and his retirement from the sport sent him on a downward spiral.
"Taking cannabis was the way that best suited me [in addressing these]," he said.
"I started using it in around 2001. Why was I growing it? I did not actually know anyone to purchase it from and did not want to get involved with that."
Webster said on a typical day he used around "half an ounce" of the class B drug with his preferred method seeing him use a vaporiser.
But the prosecution had argued the number of plants discovered by police had been "substantial".
Officers found 28 plants at his partner's address in Drefach, Felindre, and nine larger ones in the cellar of his home - capable of making a total of 2.8kg of cannabis. They also found specialist lights and electronic scales.
Webster admitted growing cannabis, but had denied intending to supply them, which was contested by Catherine Richards, prosecuting.
But Webster said the reason for growing the batch of 28 was because cannabis plants could be "unpredictable" in their yield and denied using the two addresses as a way of trying to escape drug dealing charges if caught.
He told Recorder David Aubrey QC that originally the plants had been grown at his partner's address without her knowledge.
Georgina Buckley, defending, said £1,000 in cash at Webster's home had come from the sale of a caravan.
Webster said regular monthly cash deposits of about £300 into his bank account were from his counselling work.
Ms Buckley also said analysis of the defendant's mobile phones had found no evidence in relation to drug deals, which Mr Aubrey called significant.
Webster will also have to attend nine substance misuse classes and pay £250 towards costs.