Cardiff University Otter Project under threat after funds pulled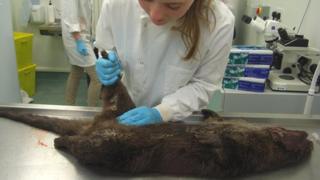 Research work using otters to monitor water contamination around Wales and England may be abandoned after funding was pulled.
The Cardiff University Otter Project, which started in 1992, costs at least £90,000 a year to run.
But its principal backer, the Environment Agency in England, has withdrawn funding and alternative income is desperately needed.
The project team examines dead otters, collecting samples and recording data.
Rosemary Moorhouse-Gann, assistant project manager, said: "Our contract with the Environment Agency ran out earlier this year and we were waiting for it to be renewed.
"They have had budget cuts so they can no longer fund us. It was quite a shock.
"At the moment we don't have any funding so we're scraping by on the bits and pieces we have."
The Environment Agency (EA) provided the majority of the funding while the rest was funded by Environment Agency Wales, which is now part of Natural Resources Wales (NRW).
While the EA funding has definitely been lost, the project team does not yet know if the NRW grant will continue, and other income is being sought.
"We're applying for all sorts of grants and the deadlines are approaching," said Ms Moorhouse-Gann.
"We're trying whatever we think might be appropriate.
"It's very, very real. If we don't secure any funding the project will have to close."
The team collects around 200 dead otters a year and carries out post-mortem examinations on them.
The original aim of the project was to examine the otters to monitor levels of water contamination but the work is now more varied.
'Important project'
It has included everything from genetics to how otters communicate.
The Environment Agency said it would consider continuing its financial backing if funds became available.
Graham Scholey, the agency's conservation technical specialist, said: "This is an important project which we have funded for almost 20 years.
"It has provided invaluable information on the health of our recovering otter populations. Unfortunately in these tough times we can no longer fund this work.
"We hope to continue covering the costs of transporting otters to Cardiff and will support Cardiff University in its search for funding to continue this valuable project.