Blood Bikes Wales volunteer hospital missions may spread
28 June 2013

From the section

Wales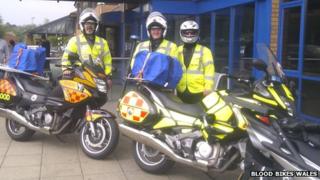 Volunteer bikers who deliver emergency blood, donor milk and medical equipment for a Welsh health board could extend their work to other parts of Wales.
Blood Bikes Wales provides the first out-of-hours service of its kind in Wales for Abertawe Bro Morgannwg University Health Board (ABMUHB).
Founder Andy Walters said they can mean the difference between life or death.
Neonatal services head of nursing Sian Passey said she was very pleased with the bikers' work.
The service started in Stevenage, Hertfordshire, in 1969 under the name Freewheelers.
Around Christmas 2010 a group of bikers heard about the service in England and discovered it did not exist in Wales.
By February 2011 they had established Blood Bikes Wales.
Chairman and founding member Mr Walters, 43, is a design and technology teacher by day at Cymer Afan Comprehensive School in Neath.
He said: "Blood Bikes Wales was founded just over two years ago and we have worked hard at building the charity into an organisation that can deliver a highly professional, reliable and sustainable service."
The service has 45 riders, 110 members across south Wales and two people on standby every shift. Previously, the health board used taxis for out-of-hours courier work.
Mr Walters said: "We get on the bike, pick up the package and take it to wherever it needs to go.
"There are times when deadlines are imposed upon us but we don't have blue lights and we follow the letter of the law. We get things moved as safely and efficiently as possible.
"When there's gridlock we can get through it - it can be life and death."
Survival chances
On a shift, Mr Walters can transport blood, blood components, test results, medical equipment or donated breast milk for sick or premature babies.
The donor milk reduces the risk of infection and other problems that poorly and early babies can suffer, increasing their chances of survival or long-term development.
Blood Bikes Wales works in partnership with Midlands Freewheelers which often supplies hospitals in Wales from its milk bank in Birmingham.
Mr Walters said: "We meet their bikers at a petrol station in Ross-on-Wye, pick up the packages and deliver them to special care."
Mr Walters works up to five shifts a month in the voluntary job.
He said: "This is something I really believe in. There's not a day that goes by that I'm not doing something for the blood bikes."
The volunteers are now in talks about the possibility of extending their service to other health boards in Wales.
Sian Passey, neonatal services head of nursing for ABMUHB, said she was very pleased with the service the bikers provided for transporting frozen breast milk.
She said: "The neonatal unit has used them a few times and the donor milk has always arrived on time, in pristine condition, and frozen.
"The staff on the neonatal unit have been really happy, with absolutely no complaints."