Macmillan Cancer Support's diagnosis tool used by GPs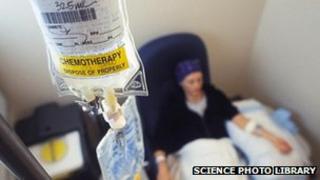 Welsh GPs are testing a new electronic tool to help them diagnose cancers which can be hard to spot more quickly.
The technology from Macmillan Cancer Support will help identify five types of cancer - bowel, lung, oesophageal, ovarian and pancreatic.
The tool uses information from a patient's records, such as symptoms and family history, to calculate a patient's risk of having cancer.
Macmillan said early diagnosis often made cancer treatment more effective.
It selected the five types of cancer for the pilot of the tool as they are more challenging to diagnose, or are cancers for which an early diagnosis has a significant impact on the outcome for a patient.
The Cancer Decision Support Tool will be used by GPs during appointments to help them spot cancer early and to help them manage the complex decisions around referring people who may have the disease.
A total of 25 GP practices - 14 in south Wales, nine in north Wales and two in mid Wales - are taking part in the six-month pilot.
Dr Bridget Gwynne, a GP adviser for Macmillan, said: "I think this pilot is part of building in an understanding of how electronic tools can support GPs in their work in the challenges of trying to diagnose cancer as early as possible."
Susan Morris, general manager for Macmillan Cancer Support in Wales, added: "We want to raise awareness among GPs about what symptoms to look out for in patients so that referral for further investigation and specialist treatment can be sought as early as possible."
In 2012, GP practices across Wales tested Macmillan's electronic tools to support them to diagnose two types of cancer - bowel and lung.