Snowdonia: Smartphone app finds walker near Moel-Yr-Hydd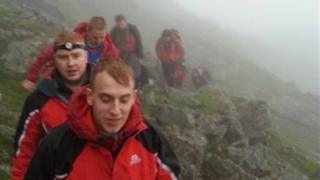 A walker lost in Snowdonia has been found with the help of a smartphone app which enables rescuers to pinpoint locations.
Two mountain rescue teams were called out on Saturday night after a 33-year-old man became disorientated near Moel-yr-Hydd, Tanygrisiau.
He was traced with the use of Sarloc, a system which used his smartphone to track exactly where he was.
Gethin Edwards of the Aberglaslyn team said it was "fantastic software".
Members of the Aberglaslyn and South Snowdonia Search and Rescue Team took part in the operation after a call from North Wales Police at 19:19 BST.
The walker, from the Liverpool area, had been out since about 11:00 and although he was well equipped for the mountains, became lost after a drop in the cloud base.
As two Land Rover ambulances were sent to the area from Porthmadog, the Sarloc app was used to find him.
It involved sending a text to his phone, and he was asked to click on a link to a webpage, which then helped show his location to rescuers on a digital map.
The teams were then sent to the area and found him. They escorted him off the hill, and the rescuers were stood down before 22:00.
"It's incredibly accurate almost down to the metre," said Mr Edwards. "It is absolutely fantastic for us."
Meanwhile, in a separate Snowdonia rescue, a couple who became lost in mist on Cadair Idris, near Dolgellau, were led to safety on Friday night.
Volunteers from the Aberdyfi search team escorted them off the mountain after the couple found themselves on a spur above the Tal-y-llyn pass, surrounded on three sides by cliffs.
They tried to descend, but retraced their steps before asking for assistance.
Team member Graham O'Hanlon said: "Calling for help rather than pressing on into the unknown was the right thing to do.
"We'd much rather walk people down from the top of a crag than stretcher them out from the bottom."