Council tax and services warning over feared budget cuts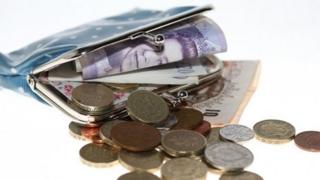 Welsh councils will have to slash services or raise council tax above 5% if they face budget cuts like their English counterparts, an expert warns.
So far, Welsh councils have seen barely half the level of cuts of those at English authorities.
But Local Government Minister Lesley Griffiths says she can no longer offer council budgets "relative protection".
The Welsh Local Government Association (WLGA) says the funding outlook "is nightmarish".
The umbrella body of Wales' 22 local councils is holding its annual general meeting in Cardiff later where Mrs Griffiths is to speak.
She told BBC Wales: "It's very important that local authorities understand that we are facing unprecedented financial challenges.
"As a government, our budget has been cut significantly by the UK government.
"We've very much protected local authority spending here in Wales but I'm afraid that's not going to be able to continue."
But WLGA director Steve Thomas said: "If there are English-style cuts then that is a game changer.
"We know that in England, in the first year of the cuts process in 2010-11, libraries were closed en masse, we saw leisure centres closed, we saw huge staff reductions across English local government - in total I think there's been around 230,000 job losses. That carnage continues.
'Carnage'
"Welsh local government has been treated more fairly and we congratulate the assembly on doing that.
"But if it is the onset of English-style cuts, and if we continue to protect the two big services, education and social services, then the impact on the smaller services is nightmarish and there's no point in standing back from that.
"The impact on those smaller services, like environmental health, leisure, trading standards, transport, things people really care about, could be carnage."
Thursday's annual general meeting in Cardiff City Hall will discuss future funding prospects, how health and social care services can be more integrated, and the Robert Hill report published earlier in the week which recommended cutting the number of local education authorities by a third by April next year.
Local government service expenditure per person has fallen by 8.4% in real terms since its peak level in 2009/10.
Councils in Wales are currently spending £5.7bn a year, and this is highest in Merthyr (£2,018) per head and lowest in Monmouthshire (£1,628).
'Worst excesses'
Some 80% of council funding comes from Welsh government grants and the remaining 20% comes from council tax.
Asked whether local authorities would be forced to raise council tax above the 5% limit set informally by the Welsh government, Mr Thomas said: "I hope the councils are able to keep their council tax within the 5% notional cap - but I think that's a debate that's got to be held with the Welsh public.
"If you want to keep services open, and raised levels of council tax are the way to do that, I think authorities will want to consult with members of the public and say 'if it's about keeping your leisure centre open and if it's about paying extra money to do that, are you prepared to do that?'
"That is a choice for people at a local level.
"It's one of those taxes we've kept down to historically low levels in recent years.
"I hope we can keep it low but I suspect council tax will be a key instrument to offset some of the worse excesses of cuts, and I hope the public can understand that."
'Survive'
Jeff Jones, a local government consultant and a former council leader, said Wales was "probably two years behind the cuts curve" compared to local authorities in England.
He said: "You are going to have stories across the board in the next few years of important groups that provide important services coming to you and saying 'we can no longer survive'. And these people will suffer because of it."
Ceredigion council leader Ellen ap Gwynn told Radio Wales: "Most probably education and social services will be protected.
"If that is the case, then I'm afraid that other services are going to have to be cut quite substantially."