Aberystwyth nurse June Parry struck off aggressive behaviour
14 June 2013

From the section

Wales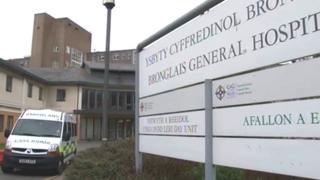 A nurse who told a patient she would wrap a cord around their neck has been struck off for aggressive behaviour.
June Parry, who worked at Bronglais hospital in Aberystwyth and a care home in the town, was found to be involved in 12 separate cases of misconduct.
She told another patient to "hurry up and do us all a favour" when they said they wanted to die.
The Nursing and Midwifery Council (NMC) ordered Mrs Parry to be removed from the nursing register for five years.
Mrs Parry had denied saying anything that she believed would have hurt a patient.
Five other cases were found to be non proven.
The decision follows a hearing that began at the beginning of June, which went ahead in Mrs Parry's absence.
It covered two periods, when the nurse was working at Bronglais hospital, and then at the Hafan-y-Waun Care Centre.
Four cases related to her time at Bronglais between August 2005 to March 2007, when she was a ward nurse.
During that time, she was accused of handling a patient in a "rough and aggressive manner", and moving the same patient's table away from her so she could not reach her drink of tea.
She was also found to have made inappropriate comments about patients, including:
Stating that she would put a pillow over a patient's head or face.
That she could wrap a bell cord around a patient's neck.
That she was "fed up with patients ringing their bells".
In the second period considered by the NMC hearing, Parry was working for the MHA Care Group at their nursing unit at the Hafan-y-Waun Care Centre.
Between October 2009 and January 2010, the nurse was found to have been involved in a further eight cases of misconduct.
The incidents ranged from moving patients inappropriately to failing to adhere to hand-washing regimes.
But she was also found to have made more inappropriate comments about her patients in the care home.
She told one: "If you press that buzzer again I will slap you", and told another that he should "hurry up and do us all a favour" when the elderly patient stated that he "wanted to die".
She also wrote on a support plan evaluation for one patient that he was "generally being a pain in the arse".
'Serious and detrimental'
In a statement to the panel, Mrs Parry wrote: "I have never hurt a patient nor said anything that I believe would hurt a patient or make them think that I was acting maliciously.
"I would also not say something that I would think would cause a member of staff to be upset as I appreciate how the working of a ward or care home evolves from a staff that can work together."
However, the panel found 12 of the allegations against her proven, while clearing her of a further five incidents.
Removing Mrs Parry from the nursing register for the next five years, the panel stated: "Mrs Parry's actions were significant departures from the standards expected of a registered nurse, and are fundamentally incompatible with her remaining on the register.
"The panel was of the view that the findings of this particular case demonstrate that Mrs Parry's actions were serious and had a detrimental effect on those in her care and her colleagues.
"This order was necessary both to protect patients and to mark the importance of maintaining public confidence in the profession, and to send to the public and the profession a clear message about the standard of behaviour required of a registered nurse."
Mrs Parry has been given 28-days to appeal the panel's decision.