Larch trees in Castlewellan Forest Park to be destroyed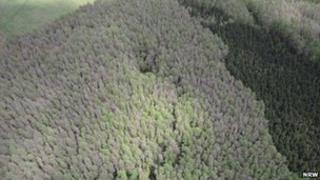 A disease that kills trees has been found in larch trees in Castlewellan Forest Park, in County Down.
Phytophthora ramorum was identified, when many trees that were apparently healthy last autumn, showed symptoms during the spring.
Many have already died.
The Forest Service said the affected area was 100 hectares (248 acres) and staff were currently felling the trees to prevent it spreading.
Forest Service chief executive Malcolm Beatty, said: "We are very disappointed about this outbreak in Castlewellan as it is further evidence that the disease is continuing to spread.
"We will clear over 100 hectares of forest to reduce the risk of the disease spreading to other forest species, and to recover as much of the timber as is possible."
Mr Beatty appealed to the public to help in the control of the disease.
"Castlewellan Forest Park remains open to visitors. However, visitors to the forest should follow the guidance detailed on signs at the affected sites," he said.
"It is especially important to avoid any action which could result in the movement of infected soil or plant parts to uninfected areas.
"Visitors are also urged to ensure their bicycles and footwear are free of any soil before visiting other areas.
"The disease presents no risk to humans or animals, although the temporary loss of habitat for wild animals is inevitable."