Christmas Day murder: Man jailed for Charmaine Macmuiris stabbing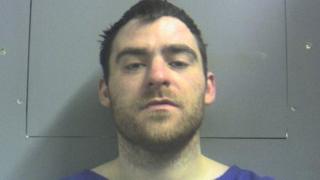 A man has been jailed for life for the "vicious and brutal" murder of his girlfriend of three weeks, who was found dead on Christmas Day.
David Thomas O'Sullivan, 28, stabbed mother-of-three Charmaine Macmuiris, 37, to death at his Carmarthen home before going to the pub and returning to eat pizza.
He admitted murder at Swansea Crown Court and must serve at least 14 years.
The court heard he wrongly believed she was seeing another man behind his back.
In a victim impact statement read to the court, Mrs Macmuiris's mother Christine said: "She was taken in the most cruellest of ways on the most cruellest of days."
The court was told that Mrs Macmuiris, also from Carmarthen, had been wrapping presents for her children before bricklayer O'Sullivan persuaded her to go for a drink on Christmas Eve.
During the course of the evening, they began to disagree with each other and Mrs Macmuiris chose to leave when O'Sullivan threw a part-full pint glass over her.
But the pair were later spotted on CCTV walking towards O'Sullivan's home.
The court heard how he later punched her in the face in the lounge before knifing her at least 10 times in the bedroom.
He left her bleeding to death while her daughter sent a text pleading for her mother to come back home for Christmas.
Police officers went to the house after hearing reports of a disturbance but O'Sullivan told them "everything was OK".
It was only the next day - Christmas Day - that police were called after O'Sullivan's parents arrived at his home.
Prosecutor Patrick Harrington QC said it was clear that there were "strong indications there was more than one assault".
"After, he left the home and went to two pubs and drank lager and bought a pizza - he returned to the address of the murder and ate his pizza," he added.
Threatening messages
The court heard that after only three weeks of dating, O'Sullivan had managed to convince himself Mrs Macmuiris was cheating on him with a male friend.
He sent threatening text messages to the man and his family on the night of the murder.
The court heard that Mrs Macmuiris had been looking forward to celebrating Christmas with her three children, Hannah, 20, Ruby, 15, and Keilan, 12, and toddler granddaughter Pixie.
In a victim impact statement, her mother said: "Charmaine has been robbed of her life.
"She was a much loved mother, daughter, sister and auntie and we have been devastated by her lose and the shocking manner of her death."
O'Sullivan had initially pleaded not guilty to murder but had changed his plea at the start of his trial on Monday.
Judge Eleri Rees told him: "This was a vicious and brutal killing.
"There may have been more than one assault - there is physical evidence of a struggle with blood stains in a variety of locations.
"You used a kitchen knife to attack Charmaine and death would not have been instantaneous or the result of any one wound or blow.
"At some point her daughter tried to text her mother and you tried to respond but in a clumsy mistake you sent a text to another person.
"This was the most callous behaviour to show to someone who you purported to love."
'Awful consequences'
Speaking after the case, Ed Beltrami, chief prosecutor for the Crown Prosecution Service in Wales, said: "Today, David O'Sullivan finally admitted his responsibility for a senseless and brutal assault that led to the tragic death of Charmaine Macmuiris.
"Only O'Sullivan himself can truly know what caused him to carry out such a vicious attack on an entirely innocent victim.
"What is certain is that those close to Charmaine continue to deal with the truly awful consequences of what he did."
Mr Beltrami said O'Sullivan's guilty plea meant the victim's family had been spared a full criminal trial process, but added: "We are acutely aware that today's outcome will not bring an end to their sense of loss."
Det Ch Insp Greg Williams, of Dyfed-Powys Police said: "To lose someone is always difficult but even more so on such a significant day.
"I welcome today's conviction and hope that it can be used to bring some closure to those deeply touched by the untimely loss of a loved one."
But in a statement, Mrs Macmuiris' family said they did not feel that a minimum term of 14 years" reflects the severity of what he has done".
"We are all still devastated at losing Charmaine," they added.