National museums in Wales shut due to PCS strike action
8 June 2013

From the section

Wales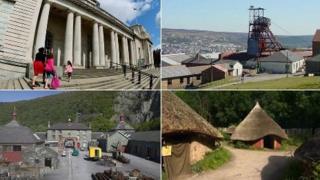 Visitors to National Museum sites in Wales have been turned away for the day as members of a civil service union go on strike.
The Public and Commercial Service Union (PCS) say the action is part of a national dispute over jobs, pay and conditions.
The museums have also proposed a restructuring programme to save £2.5m, with 23 job losses.
Museum officials said they apologise for the inconvenience to visitors.
"This is taking place in the context of the national disputes over public sector cuts," said Darren Williams, campaign officer for the PCS in Wales.
"Specifically at the National Museum Wales, they are carrying out a restructuring exercise which will lead to job losses, changes to terms and conditions, and we also fear we are going to see changes to allowances."
The PCS said its members would be mounting pickets at seven sites across Wales, including the National Museum in central Cardiff and the National History Museum at St Fagans on the outskirts of the capital.
The strike is part of a three-month rolling programme of industrial action by the PCS against austerity cuts in the civil service.
It comes after National Museum Wales announced plans to restructure its operations.
Job changes
Under the proposals, the museums hope to save £2.5m over the next three years.
It will mean 23 posts will close, and the roles of more than 100 staff will change.
When announcing the proposals, the museum said it was committed to reviewing how it could better "research, interpret and communicate" the national collection to the people of Wales and engage with its visitors while maintaining world-class expertise.
But Neil Harrison, the PCS branch secretary for the National Museums said: "'The proposed cuts threaten not only the living standards, jobs and security of the National Museums' staff but the unique services that we offer to the people of Wales and the one and a half million visitors that come every year, including school and educational visits.
"We recognise that these cuts are ultimately the responsibility of the Westminster coalition government, whose austerity programme jeopardises public services throughout the country.
"Our strike action forms part of PCS' national dispute with the UK government, which has also seen walkouts by our colleagues in the DWP [Department of Work and Pensions], Revenue & Customs and the Ministry of Justice over the last few days."
The museum currently employs 650 staff at sites across Wales, including Cardiff, St Fagans, the National Waterfront Museum in Swansea and the National Slate Museum in Llanberis.
Last year the museums together attracted over 1.75 million visitors.
Responding to Saturday's strike action, a museum spokesperson said: "Wales' seven national museums will be closed on Saturday, 8 June 2013 due to UK national industrial action by the Public and Commercial Services (PCS) union.
"We apologise for any inconvenience this may cause and look forward to welcoming visitors to each of our Museums when they re-open on Sunday 9 June."