Matthew Tvrdon case: How family stayed strong for van attack girls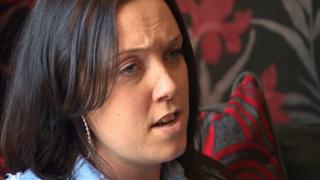 Samantha Menzies was at work when she got a phone call at work to say her sister and two of her nieces had been involved in an accident.
Her partner told her nothing to suggest the extent of the tragedy that had unfolded but she said she had a sense of something terrible.
What she did not know is that 32-year-old Matthew Tvrdon - who has pleaded guilty to manslaughter on the grounds of diminished responsibility and seven counts of attempted murder - had deliberately driven into 18 people as he drove around Cardiff in a white van.
Among the victims were Samantha's sister, 31-year-old Karina and daughters, eight-year-old Ellie and Tiana, two.
She headed straight to the city's University of Hospital of Wales, desperate for news.
"I didn't see Karina at all," she said.
"Then I went to the end of the corridor with Tiana because she had a scan to see if her internal organs were okay.
"I bumped into my partner on the end of the corridor and his face said it all.
"He didn't even have to speak. I knew she had gone so I burst into tears."
Karina had pushed her children out of the way of Tvrdon's on-coming van and had taken the full force of the impact. She was dead on arrival at hospital.
Tiana was badly injured with a broken leg and fractured pelvis - and was said to be "traumatised" by Tvrdon's horrific van attack - while her older sister had head injuries.
"Something in me snapped and from that point I just wanted to make sure the girls were okay and look after them, nurture them, help them through such a tough time," she said.
Her first major task was how to break the news of their mother's death.
"The girls didn't find out their mother had died on the day," she said.
"On the second day we told Ellie because she was eight at the time but she's not a stupid girl, she knew something was up so I said we had to tell her and we had to tell her soon.
"Tiana was still in and out of consciousness, she was groggy because of the painkillers so we wanted to make sure she was alert and aware of what was going on before we told her."
Ms Menzies, 26, said she could not physically bring herself to tell the girls but help was at hand.
"I wanted them to find out in the best possible way and I knew I would just be a blubbering mess if I told them so the doctor said 'I'll tell them if you want me to'.
"It's horrible news but he told it in the best possible way and I couldn't have asked for a better doctor to do it. He was brilliant."
But there were further complications.
Her sister's eldest daughter Sophie, 11, who has a degenerative muscle disease, was away in Florida on a "dream holiday" and knew nothing about the horrific events.
Ms Menzies was desperate for her not to be told news of her mother's death thousands of miles from home on the internet.
Fortunately, the children on the trip had no access to television or social media and Sophie was told by the same doctor surrounded by family in Cardiff.
Ms Menzies' partner Lee already has three children from a previous relationship but there was never any doubt they would bring up the girls in their Ely home.
"We've all got a really strong bond with the girls, they've lived with me for a little while before," she said.
"It was the most natural thing in the world, I wouldn't see them anywhere else.
"I love them to bits and as a family we all support them and look after them and make sure they grow up as the lovely girls they are."
Ms Menzies is determined the children will always remember their mother and believes it is vital for them to openly talk about her.
'Feeling upset'
"Tiana says mummy is an angel in the sky and she always says good night to her every night which is a really nice," said Ms Menzies.
"The other two girls still talk to her when they go to bed or when they're feeling upset but I tell them to write their feelings down because their mum is always listening to them.
"They are sad sometimes which is to be expected, but they take each day as it comes and live life as it comes which is how children should be, if you ask me."
The Menzies feel confident enough now to begin to look to the future and is determined the girls will lead normal lives despite being victims of an extraordinary crime.
"I want them to grow into strong, independent women who love life, get good jobs and be successful," she said.
"I just want them to be happy and live life to the full because they know of all people how precious life is."