Wales wildlife given £1.5m protection amid climate change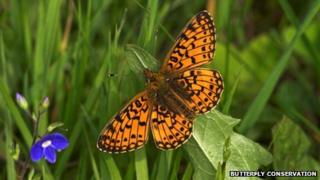 Wildlife projects in Wales are to receive £1.5m to help protect habitats and species.
The Welsh government's Natural Resources Minister Alun Davies said the money would be used to strengthen the environment against climate change.
Natural Resources Wales and the Wales Biodiversity Partnership will run the programme.
The Resilient Ecosystems Fund follows the State of Nature report, which highlighted the risk to UK wildlife.
The State of the Nature report, released last week, said Welsh wildlife was facing increasing pressure from climate change, loss of habitat and disease.
The minister, who will give more details of the funding at the Hay Festival in Powys later on Monday, said: "Despite conservation successes in recent years, Welsh wildlife is declining as the number of pressures it faces continues to rise.
"This funding will help to tackle these pressures by enabling us to better understand how we can operate effectively in a modern world while sustaining a resilient and healthy environment in Wales."
He said good management of ecosystems was essential.
The programme aims to encourage projects to protect habitats, wildlife and also tackle the issue of invasive non-native species.
The application window for projects is open from Tuesday until 4 July 2013.