Anglesey council: Ministers hand control back to councillors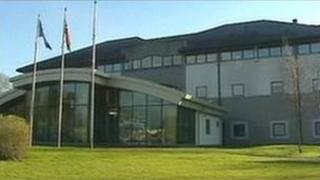 The Welsh government has announced the end of its intervention in the running of Anglesey council.
Commissioners went in in 2011 after decades of infighting.
Independents, Labour and a Liberal Democrat councillor formed a coalition to run the authority after elections this month.
Local Government Minister Lesley Griffiths said she was convinced the council can now manage its own affairs.
"I am convinced the council can now manage its own affairs without external intervention," Ms Griffiths told councillors.
"Negotiations towards forming a stable administration following last month's election and the sustained progress the council has made gives me confidence in my decision.
"The commissioners and the auditor general for Wales share my view.
"The Welsh government's intervention will formally end when the current direction expires on May 31st."
Ms Griffiths insisted she expected to see continuing improvement at the authority.
'Catalyst'
She said the Welsh government, commissioners and the Welsh Local Government Association (WLGA) were discussing with the council how much ongoing support it needed to "ensure progress beyond the intervention".
Commissioner Mick Giannasi said they felt confident to recommend the minister brings intervention to an end.
"Anglesey has shown it has true potential and determination and, provided staff, councillors and partners continue to demonstrate a positive and cohesive approach to the challenges ahead, it has a bright future," he said.
Welcoming the minister's announcement, Anglesey chief executive Richard Parry Jones said the authority was making good progress in delivering service improvements.
"The authority now has an ambitious transformation programme in place which will provide a catalyst for significant service improvements on behalf of people of Anglesey," he added.
Independent councillor Ieuan Williams is due to be elected the new council leader later.