April Jones case: Accused was sick with 'fright and fear'
23 May 2013

From the section

Wales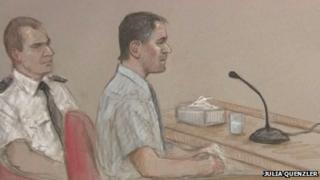 A man accused of murdering April Jones has told a court he felt sick with "fright and fear" after accidentally knocking her over in his car.
Mark Bridger, 47, of Ceinws, Powys, denies abducting and murdering the five-year-old who went missing near her Machynlleth home on 1 October 2012.
The prosecution has told Mold Crown Court he murdered her in a sexually motivated attack and told police a "web of lies" to cover it up.
She has never been found.
Her disappearance sparked the largest police hunt in UK history.
Mr Bridger's defence concluded on Wednesday and he is currently being cross-examined by Elwen Evans QC.
After lunch, he was asked whether he was a paedophile and replied: "No."
Earlier on Thursday, again with April's parents Coral and Paul watching in court, Ms Evans started by asking him to explain the difference between fabrication and lies and asked him to admit his 23-year claim he had been in the Army was a "fantasy".
'Confused'
Ms Evans continued: "When April, and I use a neutral term, went into your car, was she happy and smiling?"
Mr Bridger said: "April was in my arms..."
Ms Evans interrupted: "Was she she happy and smiling?"
Mr Bridger: "No."
Ms Evans: "And when (April's seven-year-old friend) says that she was happy and smiling, is (she) telling the truth?"
Mr Bridger: "No, she's lying."
Ms Evans went on to say "you will say anything that you think will help you" and would "tell any lie" if it would "save your skin".
Mr Bridger said the girl must have been frightened.
Asked why she was frightened, he said: "She's just lost her friend" and seen her "disappear".
Ms Evans asked him how long he had spent at local landmark the Monument which the jury has previously been told he drove to after the incident.
He said: "I am under the influence of alcohol, I'm drunk, I'm frightened I'm panicking. I don't know."
He was asked how long he had spent with April from the incident until he left town and passed Tuffins garage.
"I can't guess that... I tried to help April," he replied.
He added: "I have no clear recollection of actually leaving the Monument."
Ms Evans told him he had no clear recollection because he knew the story he gave to the police was "complete nonsense".
He was asked whether there were any other occasions when he had a "dead or dying child in your car"?
Mr Bridger: "No, which made it all the worse."
Ms Evans: "Made what all the worse?"
Mr Bridger: "The panic, the anxiety, the fright."
He was questioned repeatedly about timings and, his voice cracking with emotion, responded: "This is irrelevant to what happened that night... that little girl died that night due to me."
'Felt sick'
Later, he said he stopped remembering anything after leaving the Monument.
Questioned further on his movements, his voice cracked again as he said: "I have a dead child that I have killed in my car, how does that affect anyone?... I had pins and needles... I felt sick... with fright and with fear... this little girl had died, was dead in my car."
Asked if the focus was on him, he replied: "The focus had always been on April... on little April."
Asked where he disposed of her body, he said: "I don't recall at all..."
He was asked what he was doing when he got a text at about 23:00 that night. He said he did not know.
She then said: "On your account you have killed, disposed of a five-year-old girl within the previous..." Mr Bridger then interrupted and a tense exchange followed.
He said: "No, that's not correct... you say I disposed of... I placed her somewhere... there was an accident where I killed a young child... I have not disposed of her as you put it."
Ms Evans: "You could have disposed of her, because you can't remember? You could have done anything to her because you don't remember."
He replied: "There's scientific evidence to prove that certain things didn't happen."
"There's no DNA evidence on myself, my person, that I had sexual contact... there's no evidence of any sexual contact in the car," he added.
He said there was no evidence of "any huge amounts of blood or DNA or any horrific things on me, my car, my house".
Search for April
Ms Evans said the only piece of evidence that would solve the case was April's body.
"So where did you put her?" she asked
Mr Bridger: "I don't recall, I don't know."
Mr Bridger said he told police at the time about the places he had been and walked, including caves and rivers.
Ms Evans said police had been "up hill and down dale, down mine shafts and not found her anywhere".
The court heard that although Mr Bridger had lifeguard training he had a fear of drowning which is why he told police he would not have put her in the river.
Later, he was asked whether he accepted he had killed April.
"I did cause the death of April and I have never ever denied that but I did not go out and kill her," he added.
He agreed he was "at fault", then Ms Evans asked: "Can we accept that you somehow or other disposed of the body?"
Mr Bridger: "Disposed is such a horrible way of saying it."
Asked how he would choose to say it, he replied: "Her body has not been found."
"I have put her somewhere where it hasn't been found," he added.
She asked: "Do you remember saying to the police in interview that all you wanted to do when you drove away from Bryn-Y-Gog was get this little girl help?"
Mr Bridger: "Yes."
Ms Evans (quoting his statement): "In my heart of hearts I wanted her to be found."
Mr Bridger: "Yes."
Ms Evans: "When did it change, Mr Bridger, from all I wanted to do was get this little girl help to being I'll do anything I can to get rid of her?"
He said that was not what had happened.
He was asked why on the morning after April disappeared he told everyone he had nothing to do with it and replied: "I was frightened. I was petrified."
"That morning was the first time I knew it was April Jones," he said.
Ms Evans later said to him: "You will stick with your story, however untrue, until you are forced to abandon that story." Mr Bridger disagreed.
He was also questioned about knives, a hacksaw, a hammer, a home-made saw, air rifle and other items that were around the fireplace at his home.
He said: "I love bushcraft... the small hacksaw blade was used for making items such as knife handles and walking stick handles."
He agreed two sets of handcuffs hanging in the living room were "purely decorative".
Later, asked when he first came up with the memory that he had laid April in front of the fire, he replied: "I have no idea."
He was asked to try and remember because it was a "very major memory" and he described how he had had many "thoughts and dreams and images" of things that had happened.
He said he thought blood could have "seeped through" to the underside of the carpet.
He said he did not deny laying her in front of the fire but "she was not alive, there was not great quantities of blood".
He was also asked about a possible clean-up of blood at his house.
He accepted he had wiped blood but denied being involved in a huge clean-up to get rid of evidence.
A lengthy exchange followed about the alleged clean-up in which he was asked what his next recollection was after laying April down in his living room.
"My next recollection is nothing," he said.
Ms Evans: "Sexually assaulting her?"
Mr Bridger: "No."
Ms Evans: "Killing her?"
Mr Bridger: "No."
He was then asked about his fire and said it was lit the day after April went missing but he did not know exactly when.
He was also asked about food he had cooked on the fire and said it was an activity he had done from the day he moved in.
The court has previously heard bone fragments were found on the fire, some from a human skull.
Asked where he thought the fragments were from, he listed several animals he had cooked including squirrel and rabbit.
He was also questioned about blood found in the bathroom and said it probably came from him, adding: "It's not huge spatters of blood is it? These have come from me, these are small amounts of blood."
He was also asked about the lack of blood in or on his car and suggested that police may have missed it.
During the hearing, the jury heard him deny he had been sexually frustrated on the day April disappeared.
He was asked four times whether he had viewed indecent child images that day and eventually agreed he had viewed one image.
He told the court he had cut his hair on the Monday April went missing to "make an impression" at the parents' evening.
He also said that he had probably drunk the same amount of alcohol as he usually did that day.
The court was then cleared for lunch.
He began giving evidence in his defence in the trial on Wednesday.
Mr Bridger also denies intending to pervert the course of justice.
The case continues.