Eurovision Song Contest: Bonnie Tyler's hopes for final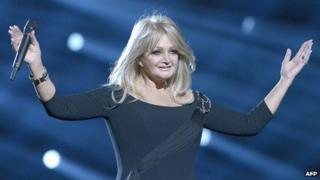 Bonnie Tyler is the star attraction at this year's Eurovision Song Contest.
Her public appearances in Malmo, the Swedish city hosting the event, have drawn the largest crowds and the biggest cheers.
One of the reasons the fans have taken to her so well is that she will talk to anyone. Her habit of stopping to chat to whoever approaches her led to some in her team worrying about the effect that all the talking will have on her voice.
But Bonnie cannot be contained.
Since arriving in Malmo she has barely stopped. Between official Eurovision duties - which include rehearsals, press conferences and photo-calls - she has also performed at fringe events and sat through countless interviews with journalists from around the world.
While her energy and enthusiasm are applauded, she has also earned respect for her realistic approach to her Eurovision chances.
Mention the final and she will tell you she is staying positive, but ask if she will win and you will get a cackle that hints that the optimism does not stretch as far the top of the scoreboard.
Among the Eurovision fans who have travelled to Malmo there's a real buzz about Bonnie, but they are also quite frank about whether they think her song - Believe in Me - can win the support of the TV audiences of Europe.
They think Bonnie is great, but would they pick up the phone for her? It has been tough finding many who will say "yes".
Bonnie has done her best to put to bed the notion that Britain does not take Eurovision seriously.
She has explained how she used to watch it with her parents when she was growing up, and how her mum would have been so pleased that she'll be representing the UK on stage in Malmo on Saturday night.
But it will take more than the singer from Skewen, near Neath, to heal the British relationship with Eurovision.
One German journalist told me the UK was consistently choosing established acts that it thought would appeal to Europeans, whereas he would rather a young talent was given the chance to shine.
When I suggested the fresh faces may fear Eurovision will prematurely terminate their careers, he did not understand why the competition could be bad for them.
Try recalling 10 years' worth of UK entries and you will probably struggle to get halfway there, unless you are a die hard Eurovision fan.
Bonnie Tyler is the biggest name for some time to grace the contest's stage, but even she will struggle to win over a Eurovision audience that still perceives Britain as the child at the edge of the playground who is pointing and laughing at everybody else.