Scope of Welsh language standards announced
17 May 2013

From the section

Wales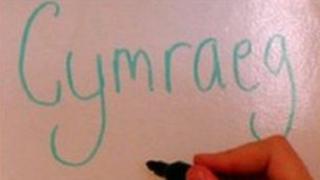 A new set of Welsh language standards will impose duties on the Welsh government, councils and national parks, ministers have announced.
Education Minister Leighton Andrews dropped earlier plans from the language commissioner for being too complicated.
Plaid Cymru expressed disappointment that the measures would not extend to a wider range of organisations.
The standards are due to be in place by November next year, with more to follow "as soon as possible", ministers said.
Announcing the timetable for the regulations to establish the standards, Mr Andrews said: "The consultation document for the first set of standards will focus on enabling the Welsh language commissioner to impose duties on local authorities, national park authorities and the Welsh ministers."
The standards are at the heart of legislation passed in 2011 to promote the Welsh language.
They place binding duties on organisations to allow people to use services through the medium of Welsh.
'Paucity of vision'
But Plaid Cymru's language spokesman Simon Thomas said: "I'm disappointed that the minister has decided to confine the Welsh language standards to local and national government only.
"This demonstrates a paucity of vision.
"The purpose of this measure was to ensure a better provision of services for Welsh speakers and to ensure that Welsh is a truly equal language here in Wales.
"For this to happen these measures need to extend beyond statutory government bodies.
"There is no reason, especially given the time taken, why the standards cannot be prepared for all those bodies covered by the old Welsh Language Act as well as considering new areas such as telecommunications."
Responding to the criticism, the Welsh government said: "We are committed to promoting and facilitating the use of the Welsh language, and to work towards ensuring that the Welsh language is treated no less favourably than the English language.
"We also want to ensure that more people have the opportunity to use Welsh in their day-to-day lives."
'Clarity'
The spokesperson said the consultation document was focusing on local councils, national parks and the Welsh government because "they are organisations that have a wide ranging influence within the communities they serve".
"Placing Welsh language duties on these organisations will have a big impact as far as the language is concerned.
"Further sets of standards will follow as soon as possible."
Welsh language commissioner Meri Huws said the minister's timetable provided clarity as to when standards were expected to come into force.