Swansea measles: Fresh MMR jab plea ahead of Urdd event
16 May 2013

From the section

Wales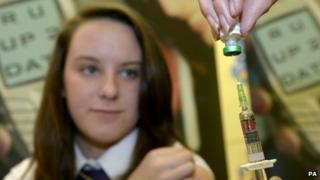 Less than two weeks before thousands of children descend on an area of Wales hit by a measles epidemic, public health chiefs have renewed their plea for youngsters to have two MMR jabs.
Up to 100,000 visitors are expected at the 2013 Urdd Eisteddfod in Pembrokeshire from 27 May to 1 June.
The county falls in the Hywel Dda health board area which has seen more than 100 measles cases since November.
In total, 1,257 people across Wales have now contracted the disease.
The outbreak is centred on Swansea, where the number of cases rose by 20 in the five days to Tuesday to 1,094.
But cases are also being reported in three other health board areas, with 55 cases in Pembrokeshire, part of the Hywel Dda health board area.
Public Health Wales (PHW) continues to warn that the outbreak may spread with those not vaccinated "highly likely" to contract the potentially fatal disease.
The Urdd claims to be Europe's largest arts youth festival, with thousands of young people due to take part in Welsh language music, dance and other cultural activities.
A call for those attending to ensure they are vaccinated against measles went out last month but public health chiefs have renewed their plea as the event is less than a fortnight away.
Children between the age of 10 and 18 are the hardest hit group in the outbreak.
The size of the Urdd festival, and the fact it involves children travelling from across Wales - with 15,000 competitors - has led to the immunisation warning.
'Increased risk'
Dr Marion Lyons, PHW director of health protection, said: "The spread we have seen in Wales in recent months has nearly always been in communities where young people come together, like schools.
"If you are not vaccinated against measles and come into contact with someone who has it, you can catch it within minutes.
"The risk is obviously increased when you attend an event with thousands of other people."
PHW estimates there are 43,000 in the 10-18 age group in Wales who have not had two doses of MMR.
To ensure that all children in a community are protected from measles, 95% of them need to be fully vaccinated.
The 2013 Urdd Eisteddfod will be held in Cilwendeg, just south of Cardigan.