Mixed Rajar figures for BBC Radio Cymru and Radio Wales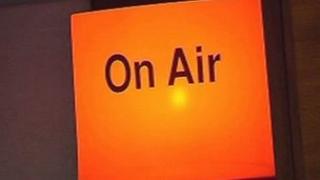 Audience figures for the BBC's Welsh language service Radio Cymru have dropped to their lowest ever level, according to the latest Rajar survey.
On average 119,000 people listened to BBC Radio Cymru each week, 3,000 fewer than the station's previous record low.
The figures cover schedule changes at the station and a period when it was unable to play thousands of Welsh tunes due to a dispute over royalty payments.
Meanwhile, sister station BBC Radio Wales attracted 26,000 more listeners.
As well as losing listeners, Radio Cymru's remaining audience is also listening less, according to the body which measures UK radio audiences, the Radio Joint Audience Research (Rajar).
On average Radio Cymru's listeners listened to the station for just over nine hours a week, more than an hour less than in the previous quarter.
Last year, schedule changes were made at the station and the latest figures fully reflect those changes.
Then on New Year's Day Radio Cymru cut its hours and replaced pop with hymns and classical music for nearly six weeks after losing the right to play more than 30,000 songs in a royalty payment dispute.
'Unprecedented challenge'
Musicians' group Eos allowed the BBC a temporary reprieve in February but it wants interim payments to almost triple pending a final resolution by a tribunal expected later this year.
Sian Gwynedd, head of Welsh language programmes and services at BBC Cymru Wales, said: "These figures cover a period of unprecedented challenge, disruption and major schedule changes for the station.
"In that respect, the fall in the reach for Radio Cymru is disappointing but not wholly unexpected.
"The team has worked hard and with creativity over the last few months through some difficult times and I want to pay tribute to their resilience."
She added: "The results reinforce the broad range of challenges facing the station and underline the importance of Sgwrs Radio Cymru - our invitation for listeners to engage with us on the future of the station."
The invitation was made in a recent speech by BBC Cymru Wales director Rhodri Talfan Davies at the Celtic Media Festival in Swansea.
He said that Radio Cymru needed to reflect Wales as it is and "not as we wish it to be or we imagine it used to be", asking listeners and institutions to share their views.
'Vote of confidence'
BBC Radio Wales has enjoyed better news with the station having 462,000 weekly listeners over the last six months, up 26,000 from the previous quarter.
The station now has a share of 8.3% of all radio listening in Wales, up from 7.4% in the previous quarter.
Radio Wales editor Steve Austins said: "We're delighted at this strong set of figures. They coincide with major changes to the Radio Wales schedule, changes that have clearly bedded in quickly and successfully.
"Our success over the past six months is a tribute to a lot of hard work by staff across the station and is a vote of confidence in the biggest schedule change the station has seen in over a decade."
BBC Radio 2 remains the most popular station in Wales with BBC Radio 1 in second place.