Snow-hit farmers in Wales given fodder donations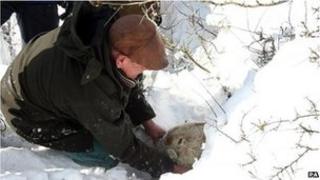 Organisers of emergency fodder which is being donated to snow-hit farmers in north and mid Wales say they are being inundated with requests for help.
Eighteen farmers have so far had bales of hay and silage given to them to help feed their cattle after months of bad weather left them with poor feed.
Another 12 are on a waiting list.
Farmers in Lincolnshire, Berkshire and the Midlands, who do not need as much hay as hill farmers, have been donating the fodder.
Hundreds of sheep and lambs in north and mid Wales died in deep snow in March, while nearly half of all the 120 Carneddau ponies in Snowdonia were also lost.
The freezing winter followed a wet summer last year, which has meant grass on many hill farms has struggled to grow, while feed is poor and in low quantities.
Farmers in England who had heard of their Welsh counterparts' plight decided to get together to try to help them.
Organised by Lincolnshire farmer Andrew Ward, they have been donating hay and dry silage over the past three weeks and have even paid for lorries to deliver them to farms in need.
Fiona Faire, of the Women's Food and Farming Union, who is helping to arrange the deliveries across north Wales, said farmers in the area had been "overwhelmed" by the generosity.
"It's fantastic and it's all been donated with no cost to the farmers here," she said.
"I think the farmers in England obviously have a lot of sympathy for what these farmers are going through.
"Farmers here are just desperate. They have been devastated by the weather.
"But those donated loads will only last each farmer a few days. But I can't give them any more as I'm being inundated with people needing help.
"I've had another 12 names given to me today and the phone is ringing constantly."
Lambs lost
Ms Faire, herself a hill farmer in Ruthin, Denbighshire, added that she hoped the donations would keep coming for as long as the farmers needed help.
Mr Ward, an arable farmer, said he had been selling his spare hay when he heard of what farmers in Wales and Cumbria were going through after the snow.
"I saw their plight and I thought why not give it to the farmers who need it more than us," he said.
"I put the word out in Farmer's Weekly and on Twitter and the message spread. We'll keep it going as long as the donations keep coming. We had another 40 bales this week..
"The farmers we have helped have been overwhelmed by it all and it's very touching. The messages I have had and the conversations I have had with people, it's been really emotional to think we've been making such a difference.
"Some of the people who have rung me to thank me have been in tears."
Following the snow, the Welsh government relaxed EU rules to allow farmers who lost livestock to bury the dead animals.
Minister for Natural Resources and Food Alun Davies also made £500,000 available to charities working with the farming industry.