EU referendum: MPs Simon Hart and David Davies join Tory 'rebellion'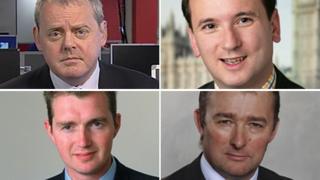 Four Welsh Conservative MPs are now backing an amendment criticising the Queen's Speech for not including a commitment to an EU referendum.
Carmarthen West and South Pembrokeshire MP Simon Hart and Monmouth MP David Davies join Guto Bebb and Alun Cairns in supporting the backbench amendment.
Around 100 Conservative MPs say they will vote for it or abstain.
The Conservative Party has published a draft parliamentary bill to legislate for a referendum to be held by 2017.
'Important moment'
Of the other four Welsh Tory MPs, Wales Office ministers David Jones and Stephen Crabb have said they will abstain on the amendment, along with Montgomeryshire MP Glyn Davies.
Cardiff North MP Jonathan Evans - a former MEP - has said he will probably vote against the amendment.
On Tuesday Mr Hart told BBC Wales the amendment "enables us to put something in the diary, it actually means that we're going to have some really firm commitments".
"Because otherwise I can understand when people just sort of raise an eyebrow and say 'well, you know, are they going to - 2018 seems a long way away'.
"This will really make it clear that we are serious about this - there will be a referendum - the first chance in 40 years for people to express a view on about whether we stay in or out of the European Union, and we can actually really make it happen.
"I never really taken a view on this, I've never come out of the shadows on Europe, which is why I'm doing it now because I think that we've got to that important moment."
Mr Hart said he would "take some persuading" to vote for Britain to stay in the EU if the vote were held tomorrow, but he wanted to see the outcome of negotiations on the terms of membership.
Mr Davies said: "If it were tomorrow, I would vote to come out but I would prefer to give David Cameron a chance to renegotiate a better settlement."
He said he would support the backbench amendment because "I believe we need to clearly demonstrate our commitment to a referendum as soon as possible".
Vale of Glamorgan MP Mr Cairns confirmed to BBC Wales he had signed the amendment on Monday night.
Anger is growing in the party over whether the UK should stay or leave the European Union.
In a debate on the Queen's Speech on Wednesday, the backbench amendment expresses "regret" at the decision not to include an EU referendum bill in government's plans for the year ahead.
'Clear route'
Liberal Democrat, Labour and pro-European Conservatives are expected to prevent the amendment succeeding, but a large vote in favour would embarrass David Cameron.
Around 100 Conservative backbenchers and ministerial aides are now expected to back the amendment or abstain, but the party leadership published its own draft bill on Tuesday in an attempt to reduce that number.
Downing Street said it offered MPs a "clear route" to change.
The draft bill sets out in law how the Conservatives would deliver their promised referendum in 2017 if they win the next election.
David Cameron's spokesman said the prime minister was "very happy" with the state of the debate over Europe.
But Welsh First Minister Carwyn Jones told assembly members he was worried that the Queen's speech had been "hijacked" by the European issue "at a time when people were concerned about jobs, about the economy, at a time when people want a roof over their head".
During first minister's questions, he accused the Conservative Party of being infected with the "incredible, narrow minded nationalism" of UKIP.
Mr Jones said the increasingly vocal opposition to EU membership in Conservative ranks was "certainly not in Wales's interest, because we benefit by £144m a year from our membership of the European Union, we are net beneficiaries from that membership".
"And anybody that suggests that Wales should leave the EU is not acting in Wales's best interests because we would lose out and we wouldn't get that money back from the UK government, that much we know.
"It also means that the £350m a year which Welsh farmers get would disappear and Welsh farming would end, that's the end of it, no question about it," Mr Jones added.