Vale of Glamorgan MP Alun Cairns joins Europe vote 'rebels'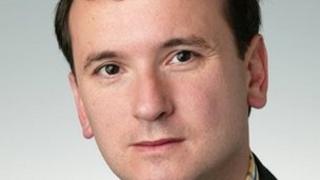 A second Welsh Conservative MP is to vote for an amendment criticising the Queen's Speech for not including a bill paving the way to an EU referendum.
Vale of Glamorgan MP Alun Cairns joins Aberconwy MP Guto Bebb in supporting a backbench amendment in the Commons.
Up to 70 MPs, including ministerial aides, say they will support the move.
The Conservative Party is to publish a draft parliamentary bill to legislate for a referendum on the UK's membership of the EU to be held by 2017.
The development comes amid growing ructions in the party over whether the UK should stay or leave the European Union.
Prime Minister David Cameron has promised a referendum on the UK's EU membership if the Tories win the next election.
But a group of Conservative backbenchers have been campaigning for him to firm up this commitment by legislating in the current Parliament for a referendum.
In their amendment, the MPs state that they "respectfully regret that an EU referendum bill was not included" in last week's the Queen's Speech, which lays out the government's legislative plans for the year ahead.
Mr Cairns confirmed to BBC Wales' Parliamentary Correspondent David Cornock on Monday evening that he had signed the amendment.
'In-out referendum'
Cardiff North MP Jonathan Evans previously said he will probably vote against the amendment.
Monmouthshire MP David Davies is undecided, while Montgomeryshire MP Glyn Davies and Wales Office ministers David Jones and Stephen Crabb will abstain.
BBC Wales is waiting for a reply from Simon Hart, Conservative MP for Carmarthen West and South Pembrokeshire, on his voting intentions.
Downing Street is saying that Conservative ministers will be "guided" to abstain if there is a vote in the Commons this week.
However, speaking to the BBC's Sunday Politics Wales, Mr Bebb said he would argue that his position was "the mainstream of the Conservative Party".
There is currently no history of Conservative MPs voting against the Queen's Speech.
The Conservative Party says it will publish a draft parliamentary bill on Tuesday to legislate for an in-out referendum on Britain's membership of the European Union to be held by the end of 2017.