Ash dieback found in mature trees in Carmarthenshire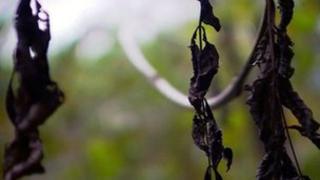 Ash dieback has been found in mature trees for the first time in Wales.
The infected trees were discovered in Ferryside, Carmarthenshire, by Natural Resources Wales (NRW) staff last week.
Until now the Chalara dieback in Wales had been confined to newly planted sites in trees from nurseries known to hold infected stock.
NRW said it had just been a matter of time before the fungus spread to the wider environment.
A site adjacent to the one in Ferryside was planted with young ash trees between December 2006 and March 2007 - and some of those also have the disease which causes trees to wither and die.
The disease - caused by the fungus Chalara fraxinea - has also been found in the wider environment in the south east of England and the east side of Scotland since it was first recorded in Britain in early 2012.
It has been discovered in 19 recently planted sites in Wales, but the Ferryside finding marks the first discovery of Chalara in the wider environment on the western side of Great Britain.
"Following Chalara's discovery in the wider environment in England last autumn we have known that it would be only a matter of time before it was discovered in the wider environment as well," said John Browne from NRW.
"We have carried out a 1.5km (0.9 miles) survey of the area to ascertain the extent of the infection and we are liaising with the landowners on the steps they can consider to reduce the rate of spread of the disease, in line with the Welsh government's Chalara management plan."
The disease poses no risk to human or animal health and public access to woodlands is not restricted, but people are asked to behave responsibly and take simple precautions such as removing mud from footwear and tyres.
Ash dieback is spread by airborne spores and can also be moved long distances by the transport of infected material.
Anyone who thinks they may have seen trees with symptoms of dieback are asked to let NRW know by using the free Tree Alert app or on-line form available at www.forestry.gov.uk/treealert.