Aberconwy MP Guto Bebb to 'rebel' over Europe vote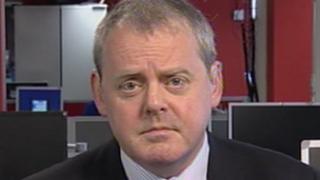 A Welsh Conservative MP says he will vote for an amendment criticising the Queen's Speech for not including a bill paving the way to an EU referendum.
Aberconwy MP Guto Bebb will support a backbench amendment in the Commons, although he argues that he is not an EU rebel, but in the Tory mainstream.
Cardiff North MP Jonathan Evans will probably vote against the amendment.
David Davies is undecided, while Glyn Davies and Wales Office ministers David Jones and Stephen Crabb will abstain.
BBC Wales is waiting for replies from the two other Conservative MPs in Wales on their voting intentions.
Downing Street is saying that Conservative ministers will be "guided" to abstain if there is a vote in the Commons this week.
Significant concessions
However, speaking to the BBC's Sunday Politics Wales, Mr Bebb said he would argue that his position was "the mainstream of the Conservative Party."
While there is no history of Conservative MPs voting against the Queen's Speech, the Aberconwy MP said he believed Europe was an important issue.
"Personally, if the prime minister did manage to get some significant concessions, then I would be voting to remain within the European Union," he said
"But I do feel that we need to lance the boil.
"This issue has been a plague on our politics for the best part of 20 years, I would argue, and it's about time we did commit ourselves to a referendum so that the people of Wales and the United Kingdom can actually decide whether they want to stay in a reformed European Union or whether they want to turn their backs on the institution."
'Genuine debate'
Mr Bebb added: "My own view is that a reformed European Union is something worth working towards, worth aspiring to but we need to give the people of this country a vote on the issue."
Jonathan Evans told BBC Wales: "I am waiting to see what the terms are of any amendment but I am not intending to vote against any aspect of the Queen's Speech".
Glyn Davies, the MP for Montgomeryshire, described himself as a Eurosceptic, but said he would support the government in any vote on the EU.
Speaking to Sunday Supplement on BBC Radio Wales, Mr Davies said "a genuine debate about a hugely important constitutional issue for our country" was needed.
"There'll be some very important debates about this issue. I don't see anything wrong with that," Mr Davies said.
"What we don't want to do is have a disrespect for each other's opinions and I think that's what happened really when the Maastricht treaty was being debated in Westminster, when there was incredibly close majorities and that was a damaging time for the party.
"But I just feel there may well be a debate if the Speaker calls this amendment; there may be a debate on this, I think, on Tuesday.
"I'd expect the debate to be very civil... maybe the media would like there to be internecine warfare within the party. I don't think you're going to find that."