Child commissioner's human rights warning on disabled girl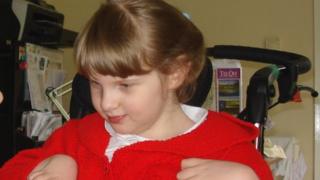 The children's commissioner for Wales has warned that a council and a health board could be breaching a 10-year-old disabled girl's human rights.
Poppy Blewett-Silcock's parents say they need more support from social services or the NHS to help care for her in Machen, near Caerphilly.
Commissioner Keith Towler said the failure to resolve the situation was a potential breach.
The Welsh government said it was taking action to address issues in this area.
BBC Radio Wales' Eye on Wales programme has found that other families in need could be falling through cracks in the care system.
Poppy has a rare condition called Warberg Micro Syndrome that has left her blind, unable to walk or speak and needing to be tube fed. She requires 24-hour care.
Poppy's parents Tymandra and Craig care for her at home and need more support but social services and the NHS say they cannot help.
Caerphilly council provides one overnight stay a fortnight for Poppy at a care facility and a few hours with a sitter each month.
But Mr and Mrs Blewett-Silcock said Poppy could not go to the overnight facility when she was very ill, leaving them exhausted and without a break.
They want to move to a system called direct payments, which would give them a set budget to arrange the care best suited to Poppy's needs, but this has been turned down.
'Continual struggle'
"Social services say that they will not pay for someone to tube feed her because that is a nursing need, whereas the other side, the nursing side of things, are saying no - it's not a health need," said Mr Blewit-Silcock.
"We really are caught between the two, effectively arguing about their budgets.
"It's a continual struggle and a fight, and the strain. There's enough strain on a family anyway, but the strain of having to fight your case with people who have just got their blinkers on."
He said respite time was essential for him, his wife and Poppy.
Mr Towler said a failure to resolve the situation could be a breach of Poppy's human rights.
"My job is to stand up and speak out on behalf of children and to do that I use the UN Convention on the Rights of the Child," he said.
"If a child is failing to receive a service or its failing to be protected, or to have their voice heard, that would be a breach of the UN Convention on the Rights of the Child.
"So from any child's perspective, when adults are arguing over who should pay what, my position is very clear. This child has an entitlement and if there are issues over funding then we'll resolve that later."
'Taking action'
In a joint statement, Caerphilly council and Aneurin Bevan Health Board said: "It is important to acknowledge that the assessed needs of all children referred to us for care provision are already being met.
"We acknowledge and share parents' frustrations in the current gaps in national legislation around direct payments concerning disabled children, and we look forward to working with Welsh government and other partners to address this issue."
Health Minister Mark Drakeford said there were issues in this area which the Welsh government was aware of and which "we are taking action to address, but I recognise we still have work to do".
He added: "We are committed to undertaking a review of the national framework and arrangements for continuing health care to ensure that people receive the appropriate care they need and that health boards operate this in an appropriate and timely manner."
Mr Drakeford said the role of respite care would be considered as part of the "reforms for carers which are being introduced as part of the Social Services and Well-being (Wales) Bill".
There are more than 370,000 carers across Wales, according to the Carers Wales charity.
Eye on Wales is BBC Radio Wales on Sunday at 13:30 BST.