Before I Die: Cardiff University festival discusses death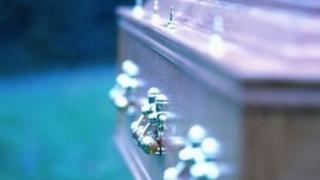 Death is a subject not everyone is happy to discuss, but it is the main topic on the agenda at a Cardiff "festival for the living about dying".
Before I Die will see a series of arts events linked to death and dying.
The event, at Cardiff University until 20 May, aims to tackle the taboo of talking about death and encourage people to think about their end of life wishes.
Experts argue that this taboo also exists amongst health professionals.
Its curator, Jenny Kitzinger, has studied how conversation removes social stigma, and has previously studied breaking taboos about Aids, sexuality, contraception and sexual abuse.
She said: "I have become convinced we urgently need to talk about end of life issues as individuals and as a society.
"I want this festival to provoke conversations with family and friends about end of life wishes, to support us in thinking about our own mortality, to allow us to reflect on grief and loss, and to help us develop the social and policy context to support as good a death as possible for each of us.
"There may be reconciliations that we want to have, things we want to see and people we want around us... we should think about beforehand. The bucket list has a lot of social currency.
"If we don't talk about [these wishes] then we leave it in the hands of doctors. The way people die lives on in the memory of those left behind.
"Grief is eased if people feel the wishes of the loved one have been honoured."
Claudia Wood, deputy director of the think-tank Demos, said the taboos should also be broken down in GPs' surgeries.
'Mutual silence'
"Whilst breaking down social silence is important, it is one thing for the public to feel more at ease, but what if professionals give off the vibes that this is something they want to put off talking about," said Ms Wood.
"Hospice staff are great at this, but general practitioners are less confident. They are scared to broach the subject. They know about the medical side of it, but they don't talk about [death].
"Doctors usually talk about treatment, cure, fixing... there is a level of certainty. With dying there is uncertainty involved. It is not traditionally what medical students are taught to deal with.
"GPs, care home staff and nurses need to be open. If the GP doesn't bring up the subject... we can't expect patients to. There will be a mutual silence.
"Chats should happen early and often. People can change their mind."
Amber Dowell, of the charity Cruse Bereavement Care, said: "If we can get more people to talk about death then it makes it easier to talk about grief. It can be really hard trying to work it all out in your head."
The festival forms part of the week long Dying Matters Awareness Week, promoted by the National Council for Palliative Care.
Last month the Welsh government launched the Delivering End of Life Care plan, which sets out its expectations of the NHS and its partners to make end of life care consistently good across the country.