Choirs Rock Families launched for all generations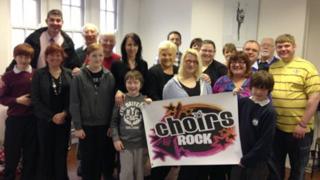 Children, parents and grandparents will be able to join together to sing their hearts out in new choirs aimed at the whole family.
Choirs Rock Families will unite all ages in an attempt to bring different generations together.
Choral director Sian Pearce said she came up with the idea after hearing of parents spending all their free time ferrying children to activities.
The first choir will launch in Swansea, followed by others across south Wales.
Ms Pearce also has plans to create choirs for other groups in the community, including for gay people, for single people and for the over-60s.
Ms Pearce said she had so far had a lot of interest for the family choirs and "phenomenal feedback" from people keen to join.
"Everyone says to me, 'how come nobody's thought of this before?'" she said.
"As far as I'm aware this is a new concept for choirs but it makes sense - whenever a family get together the ones people remember are when they're sat around the piano or guitar.
"Now here is the chance for all the family to spend quality time together."
Ms Pearce, who was the first female music director of the acclaimed male voice choir, Morriston Orpheus, said she was aware that many people were often unable to join choirs because of family commitments.
"Parents are too busy running their kids around to various different activities and sitting outside waiting for them, to even have time themselves to join a choir and have the chance to sing away all their stress," she added.
The Swansea choir started on Friday evening and more will soon follow in Port Talbot, Neath, Aberdare and Newport after interest from potential members.