National Eisteddfod: Call to hold festival in England every 10 years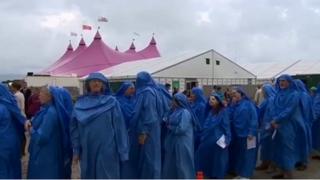 Organisers of the National Eisteddfod should consider holding the event in England to widen its appeal, according to two politicians.
Ken Skates and Susan Elan Jones, who both represent Clwyd South, say such a move even if only every 10 years would "help more people understand Wales".
But opponents say, as a Welsh festival, it should be held on Welsh soil.
Friday is the deadline for responses to a Welsh government consultation on the Welsh cultural festival's future.
The National Eisteddfod is held every year in August.
The eisteddfod office has refused to comment until the review of the festival's future is made public in September.
AM Mr Skates said: "Given the challenges thrown up by the 2011 census which showed a fall in the number of places where over half the population could speak Welsh, we have to innovate to keep the National Eisteddfod the strong cultural brand that it is.
"What we should do now is use its strength and pulling power, even if it is just once every 10 years, to take the eisteddfod outside Wales to help more people understand Wales, its language and its culture."
But on BBC Radio Cymru's Welsh programme Taro'r Post on Thursday, former eisteddfod chair, Dr Aled Lloyd Davies said: "This is a Welsh festival, and should therefore be held on Welsh soil."
The festival has been held across the border in the past with the last time in Liverpool in 1929.
'Living language'
Dr D Ben Rees, who campaigned for the eisteddfod to visit Merseyside in 2007, called on festival organisers to "broaden their horizons and embrace the chance to increase the festival's profile" by visiting places like Liverpool, Chester, Manchester, Birmingham, London and Shrewsbury.
Rhian Jones, chief executive of the London Welsh society, said that the idea would be worth considering but "maybe once every 10 years".
MP Susan Elan Jones said: "There are far too many examples of the Welsh language being lost in families because they live outside of Wales for a time. This initiative could be a real boost to them.
"It would also be an excellent way of showcasing Wales and promoting Welsh as a living, and ultimately I hope, growing, community language."
The 12 members of the task-and-finish group, who include Hay Festival director Peter Florence, Lord Elis-Thomas AM and BBC broadcaster Roy Noble, are looking at nine topics, including having a four-year cycle for the festival.
In two of those years, the eisteddfod would be held at permanent bases, possibly in north west Wales and west Wales, while in the other two years it would alternate between temporary homes in north and south Wales as it currently does.
The next festival is due to be held in Denbigh, Denbighshire.
The event receives about £500,000 from the Welsh government.