A55 road widening ruled out by Welsh government
9 May 2013

From the section

Wales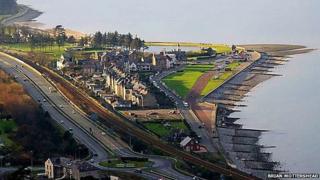 A call to widen the A55 across north Wales to ease traffic hold-ups has been ruled out because "severe constraints" would make it impossible or uneconomic.
The call follows claims by North Wales AM Antoinette Sandbach that the 81-mile (130km) road was only free from roadworks for 57 days in the last year.
She wants the Welsh government to secure funding to pay for an extra lane.
But it said this was not a practical option.
One business leader says traffic jams continue to cost firms money.
Graham Jones, chair of Flintshire branch of the Federation of Small Businesses (FSB), said: "I simply cannot understand why it wasn't built as a three-lane motorway or least with a hard shoulder.
"Other European countries have used EU money on infrastructure: high quality, fast-moving roads, airports, rail lines and stations.
"I know from speaking to members that too often they are sat in traffic jams, or finding ways around them.
"It's a cost to them - many small traders like myself absorb the cost of fuel into their charges," added Mr Jones, who runs a computer supply and repair firm.
"We have to travel around to collect and deliver equipment.
"If that takes much longer than we expect, due to road hold-ups, then that's another cost to our company."
Ms Sandbach, the Conservative rural affairs spokeswoman in the assembly, wrote to Transport Minister Edwina Hart to raise concerns about problems caused by ongoing road maintenance.
Ms Sandbach says the minister told her that for the year ending on 31 March 2013, the A55 was totally free of roadworks for just 57 days.
"This road is known as the Expressway. When there are no road works, or breakdowns, it works fine.
"Being clear of roadworks for just a sixth of the time is a ludicrous situation.
"This is also a European route and we should be asking for European funding to make sure traffic flows freely, every single day of the year."
The A55 carries tens of thousands of vehicles a day between Anglesey and Chester along the north Wales coast before moving inland towards Cheshire and becoming the M53 between Ellesmere Port and Wirral.
It is also part of the European route E22 which reaches as far away as Sweden and Russia.
A Welsh government spokesperson said: "The works, which are essential to maintaining the safety or serviceability of the A55, are carried out overnight or outside peak traffic flows wherever possible.
"Widening of the A55 to provide further lanes or a hard shoulder is not a practical option as severe constraints over much of the length of the road make widening either impossible or uneconomic."