Heart disease in Wales: Better care aim for patients
8 May 2013

From the section

Wales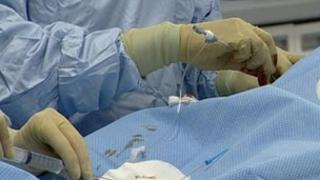 Providing consistent care for people with heart disease wherever they live in Wales is one of the aims of a new plan to improve cardiac services.
The Welsh government is launching the drive to improve patient heart care, one of the nation's biggest killers.
The plan to be unveiled later on Wednesday is expected to help ensure all have access to adequate NHS help.
The British Heart Foundation (BHF) welcomed the action although it did not expect it to include any new money.
Death rates from heart disease remain 15% higher in Wales than in England.
Some 20% of Welsh adults are being treated for high blood pressure, while heart problems are more common in poorer communities.
Dr Mike Knapton, associate medical director of prevention and care at the BHF, told BBC Radio Wales that heart problems affected places like the south Wales valleys and deprived regions more than other areas.
He said the plan needed to addresses factors such as access to healthy food and exercise.
"There is going to be no more money as far as I'm aware," he said.
"We are all in it together and so the NHS has its part to play in terms of giving people rapid access to treatment... but we can reduce our risk of heart disease today by taking simple steps."
He referred to a £1.5m project in Torfaen which has been working with residents and other health groups to improve people's long-term health.
The Welsh government said it wanted to ensure that those affected by any kind of heart disease have access to high quality services, regardless of where they live.
The strategy - called Together for Health; A Heart Disease Delivery Plan - is expected to set out how it will achieve that, along with encouraging people to take better care of themselves.
Health Minister Mark Drakeford said it was essential that the NHS focused on meeting the needs of people and reduced inequalities in health and variation in access to services across Wales.
"My challenge to the NHS in Wales is to work with its full range of partners to plan, innovate and, most importantly, deliver really effective heart care," he added.