Rugby on TV: BBC hopes to hold on to Pro12 rights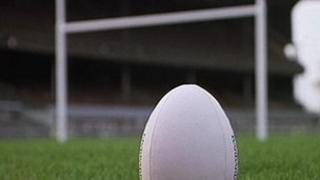 The BBC says it is still hopeful it will be able to show Pro12 rugby union after Sky secured live rights to the competition from 2014.
The satellite broadcaster's deal is thought to be non-exclusive, and the BBC is still negotiating with Celtic Rugby over the matter.
The competition features the four Welsh regions, along with sides from Ireland, Scotland and Italy.
Sky will show 30 live Saturday matches for the next four years.
The broadcaster will also screen the competition's semi-finals and final.
BBC Wales, BBC Northern Ireland and BBC Alba had been aware that the competition wanted both free-to-air and pay-TV broadcast partners, they said in a joint statement.
"We were aware that Sky was going to make an announcement today but are not in a position to do so ourselves as negotiations with Celtic Rugby are ongoing," said the BBC statement.
"However, we remain hopeful that a positive outcome can be reached soon, one which will allow us to continue to bring the Pro12 competition to the largest possible audience."
The competition was originally formed as the Celtic League, including sides from Wales, Scotland and Ireland, with Italian teams joining at the start of the 2010-11 season.
The tournament has been carried by BBC Wales since its inception in 2001.