NHS in Wales: Missed appointments charge call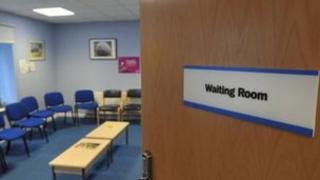 Charges for missed NHS appointments should be considered to deal with the cost of irresponsible patients, the Welsh Conservatives say.
Tory health spokesman Darren Millar said that emergency departments were at the point of meltdown.
Health Minister Mark Drakeford said although missed appointments were an issue, there was not a widespread abuse of the system.
Other political opponents attacked the proposal as "simplistic".
During a debate in the assembly, Mr Millar also said it was time for an open discussion about whether people seeking medical treatment for injuries sustained while drunk should continue to be treated for free.
Mr Millar added that the Welsh government's universal free prescription policy could be playing a role in people attending GPs and hospitals inappropriately.
'Rise to the rescue'
Mr Drakeford said the government would back the Conservative motion relating to responsibility in general.
But he added that fining people was a superficial solution and did not stand up to practical scrutiny.
He said there was no doubt that the health service continued to have to treat many people who were there for self-inflicted reasons such as alcohol.
And he said it was an open question as to whether the NHS in Wales should continue to "simply and unquestioningly ride to the rescue" of people in these situations.
The minister referred to a scheme considered by Cardiff and Vale LHB which would force smokers and obese people to undergo courses of treatment before being allowed to have surgery.
He said there was a case for being clearer that when a patient refused to take advantage of this kind of treatment then the "bargain may have to be recast".
But he stressed that this would not mean the NHS would "turn its back on people".
Text reminders
Welsh Liberal Democrat leader Kirsty Williams questioned how a system of charging for missed appointments could differentiate between patients who did not turn up for good reason and those who were simply irresponsible.
Plaid Cymru health spokesperson Elin Jones told AMs she had personally missed an appointment for an NHS clinic last year through an error and "felt terrible" about it.
But she said a financial charge would be less likely to have an effect than a system of email or text reminders from the health service.
She stressed that the NHS should continue to be free at the point of delivery and politicians should not decide who was "irresponsible" and who was not.