Gruff Rhys links with National Theatre Wales for new Neon Neon album gig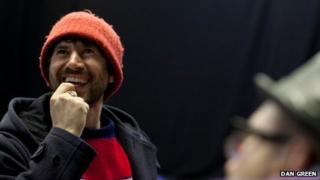 A secret location near Cardiff city centre is to host the first performance based on the new album by Super Furry Animals front man Gruff Rhys later.
Praxis Makes Perfect is a multi-media gig by National Theatre Wales following the album's launch on Wednesday.
It tells the story of the millionaire communist Giangiacomo Feltrinelli who defied Soviet Russia to publish the novel Doctor Zhivago.
It is Rhys' second album as part of the electrobeat duo Neon Neon.
People will learn the location by email once they have bought a ticket to the show.
National Theatre Wales has no permanent theatre building and previous productions have been held in an aircraft hangar, a firing range in the Brecon Beacons and a fleet of taxis in Cardiff.
As part of its audience participation model, ticket holders for Praxis Makes Perfect are asked to wear something red and bring a book which they would be prepared to give away to a stranger.
Neon Neon is the musical partnership of Rhys and the American producer Boom Bip.
Praxis Makes Perfect follows their 2008 Mercury Music Prize-nominated album Stainless Style outlining the story of John DeLorean, the American businessman who created the gull-wing sports cars which bore his name.
In the new album, Rhys imagines the life and achievements of Feltrinelli, the wealthy political activist who fought the Nazis as a partisan but then challenged the post-war Soviets for the sake of art.
In addition to publishing Doctor Zhivago, Feltrinelli counted political figures like Cuban leader Fidel Castro among his friends.
He died violently at the age of just 45 in circumstances that are still viewed suspiciously by some. His funeral was attended by 8,000 people.
The dramatic performances for Praxis Makes Perfect are scripted by Aberdare-born playwright Tim Price, whose previous work includes the play The Radicalisation of Bradley Manning.
'Gripping story'
He and Rhys went to Italy for a week to research the production.
This included meeting Feltrinelli's family - a recording by his daughter features in the show - and seeing Boris Pasternak's original manuscript of Doctor Zhivago, written in Cyrillic, which was smuggled out of Soviet Russia.
The novel, which spans events from the 1905 Russian Revolution to World War II, had been refused publication by the Kremlin but was published in Milan in 1957 at Feltrinelli's instigation.
Price said: "Gruff is one of my heroes. When the opportunity came along to work with him, I leapt at it. As a collaborator, he is a dream really.
"He has the status and profile to dictate things if he wanted to but he is far more interested in collaborating and taking on other people's ideas."
Price said had only two weeks to create the production of four evening and one matinee performances from scratch, when he would usually expect four weeks and to start with a finished script.
He said: "We did the research trip together. We were well prepared but when we came through those doors we didn't have anything.
"It's a very unusual process, to create a live show in response to music that's already recorded.
"The album tells the story through the songs, so there was already a structure there.
"On its own the story was gripping. We had to work out how to dramatise the story."
Praxis Makes Perfect has four evening performances and one matinee from 2 to 5 May.
Neon Neon is taking the album on a tour afterwards and that includes headlining the theatre stage at the Latitude festival in Suffolk.