Pembrokeshire tidal energy scheme in £1.6m EU boost
1 May 2013

From the section

Wales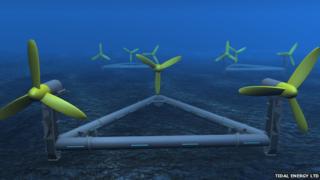 A pioneering tidal energy project off the Pembrokeshire coast has been given a £1.6m boost from the European Union.
Subject to harbour trials, the DeltaStream device will be placed on the seabed in Ramsey Sound in 2014.
The generator will supply homes in the St David's area with power during a 12-month trial.
The funding was announced by First Minister Carwyn Jones at the RenewableUK Conference in Cardiff, and follows £6.4m given by the EU in 2011.
The money will help Cardiff-based Tidal Energy Ltd further develop its DeltaStream generator.
The device is designed to generate energy from tidal currents on the seabed.
Mr Jones said the Welsh government was backing a number of initiatives to support renewable industries and that close collaboration with partners would be vital in driving the sector forward.
"I am delighted to announce £1.6m EU funds to support the DeltaStream project which will help increase Wales' presence in the tidal sector," he told the conference on Wednesday.
"So that we continue to deliver our low carbon ambitions, I will be chairing and hosting a strategic delivery group to ensure strong engagement with stakeholders to enable collaboration and remove any barriers to achieving our vision."
Martin Murphy, managing director of Tidal Energy Ltd, said: "This is a really exciting time for us.
"We have all the necessary operating consents, have completed the grid work for the project, and are now preparing for our first at-sea tests."
'Major market share'
Tidal Energy Ltd is working with renewable energy company Eco2 Ltd which has developed projects in biomass, wind and landfill gas.
Its chief executive David Williams said: "When we have completed our demonstration device testing of the DeltaStream unit in Ramsey Sound, we have plans to install a 10MW array off St David's Head in Pembrokeshire.
"Our aim is to achieve a major market share of installed marine renewable capacity in the UK by 2020."
The Pembrokeshire tidal project is one of a number of similar schemes planned in Wales.
In February, Wales' first commercial tidal energy farm planned off the coast of Anglesey won Welsh government approval.
The £70m Skerries Tidal Stream Array is also being backed by £10m in UK government funding.
Meanwhile, a £650m tidal lagoon is proposed for Swansea Bay, which it is claimed could generate enough power to supply 107,000 homes.